Featured Article
February 18, 2019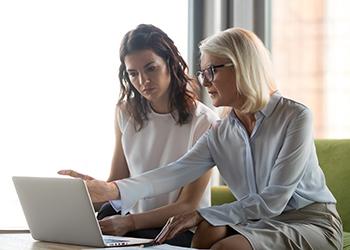 fizkes/Shutterstock
As leaders, what is our responsibility to nurture, encourage, and challenge talented people around us who are in subordinate positions to consider and make career moves? While it seems obvious that we'd like to retain someone who is highly successful and enjoys their work, we also have an obligation to our employees to help them develop their skills so successfully that in essence they work themselves out of their current job and need to move on to more challenging roles.
Recent Articles
February 11, 2019
How can you overcome the anxiety most people feel during a job interview? The same mindfulness exercises that Alison DuBois of Westminster College in Pennsylvania used to help football players overcome performance anxiety may be the answer. The tactics she taught the players may be just what you need in order to let go of anxiety and accurately showcase your abilities, but for them to truly be effective, you must practice every day.
February 8, 2019
Do you need a doctorate in order to achieve your career goals? If you aspire to be a president, vice president, or dean, it's not a question of if you will earn your doctorate, it's a question of when. If your ultimate career pursuits are at the mid-level or assistant director level, a doctorate may not be necessary. This guide outlines important questions to ask yourself as you consider your professional and educational aspirations and which program is right for you.
January 28, 2019
If every division chair/department head, dean, director, vice president, or other person in a position of authority thought of themselves as a supporter, enabler, cheerleader, and advisor of the faculty and staff who performed the work of the enterprise, would that change how we think and work? Coaches -- who help people grow and provide support, feedback, encouragement, counsel, and inspiration -- may be just what we need in higher ed as opposed to oversight and supervision.