November 10, 2023
Community College Baccalaureate Programs: Changing Lives and Communities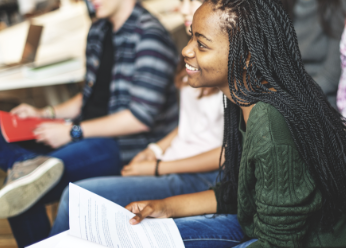 Rawpixel.com/ Shutterstock
Community college baccalaureates (CCBs) are helping to drive equitable access to high-value baccalaureate degrees for traditionally underserved populations, but not all people believe they are necessary. Angela Kersenbrock, president of the Community College Baccalaureate Association, shares how these programs are impacting students and their communities.
Leah Jackson, HigherEdJobs: For those who aren't familiar, what is Community College Baccalaureate Association (CCBA) and its overall mission?
Angela Kersenbrock, President, Community College Baccalaureate Association: Since 1999, the Community College Baccalaureate Association (CCBA) has been the nation's only organization dedicated to promoting bachelor's degrees on community college campuses as a means of closing racial, ethnic, and economic gaps by providing its members access to research data and strategic guidance as they develop and implement their baccalaureate degree programs.
Our mission is to provide support and resources to community colleges that build and sustain high-value, career-focused baccalaureate degrees that maximize opportunities for all citizens to achieve family-sustaining careers.
Our vision is that students in every community have direct and equitable access to high-value baccalaureate degrees.
Jackson: What is the advantage of a community college baccalaureate (CCB) degree (for students) as opposed to the traditional transfer process and completion at a four-year school?
Kersenbrock: Community college baccalaureates (CCBs) are accessible, affordable, convenient, practical, high-quality degrees intentionally designed to meet the needs of community college students (typically age 30+), including those representing racially minoritized and other under-served populations.
Through flexible and responsive pathways, CCBs contribute to career success for individuals and prosperity for families, and respond to community needs because they are designed in partnership with local industry to support workforce development.
Some of the advantages are lower costs for the complete degree and accessibility. These degrees are in student's neighborhoods and provide geographic access.
Additionally, they eliminate the need to transfer to another institution, which translates into not having to deal again with financial aid, mastering a new learning management system, and a new atmosphere. We take our highest-risk students and ask them to transfer, which is often not easily done.
Jackson: Equity and social justice are words often mentioned in conjunction with CCB degrees. How are these degrees making a difference for students, families, and communities?
Kersenbrock:
Students who enroll in CCB programs are a highly diverse group. With an average age over 30, most CCB students choose to attend a community college close to home to allow for full-time employment, care for family, and engagement in their communities.
CCB graduates, on average, are 40% people of color & 57% female.
CCB programs mirror the enrollment demographics at the community college.
One year after graduation, CCB completers earned approximately $10,000 more than peers who earned an associate degree in a similar program.
Benefits of CCB programs:
Address workforce and economic needs.
Accessible for students who are "place-bound."
Provide high-quality education by colleges that often offer associate degree programs in the same workforce fields.
Affordable (cost may differ in each state).
Jackson: Expanding on the advantages, why might a community college consider offering the baccalaureate degree?
Kersenbrock: The trends we see in CCB degree program approval and implementation nationwide seem to reflect supply and demand patterns operating locally and sometimes also at the state and national levels. Intentionally sensitive to changes in the workforce, CCB-degree programs align with the labor market demand in ways that help advance the economic and social well-being of communities and individuals who reside in them.
Jackson: Not all states are adopting the CCB legislation. What are some of the biggest obstacles community colleges face in creating these degrees? And what advice do you have for tackling them?
Kersenbrock: State/university pushback re: the CCB concept is often clouded by the myth that there are already enough baccalaureate options for all students. They believe students who want a bachelor's degree can attend a local public university or private college, and the CCB programs developed by community colleges are duplicative and not needed.
However, the data shows that CCB programs address critical workforce needs and do not impact universities' enrollments thus increasing the overall number of graduates in these highly sought-after fields. Based on state employment survey results, CCB graduates have stated:
51% said they would not have pursued a bachelor's degree otherwise
87% agreed that the value of the program was worth the tuition cost, and the tuition cost was affordable
92% agreed that community college should continue offering bachelor's degrees
Jackson: CCBA offers a promising practices e-book to help guide community colleges in their journey to offering CCB degrees. If you had to pick a few, which ones would you highlight?
Kersenbrock: The Promising Practices that CCBA highlighted are all fantastic and help to move students to completion and full employment. If I had to pick two areas that I'm most excited about it would be the sections on Access, Equity and Outcomes and the section on Student Support Systems. Skagit Valley College in Washington has done a wonderful job in taking a look at every aspect of their programs to ensure that equity is firmly rooted in all they do.
MiraCosta College redesigned their student services approach to create a specialist who intentionally advocates for students, connects them to resources, and acts as a liaison between the world of academia, the students' homes, and their workplaces. We have honored a few of their students as CCBA scholars. They have incredible stories of overcoming challenges with the help of these specialists.
Jackson: What is the most engaging or rewarding part of the work that you do in this area of higher education?
Kersenbrock: Seeing students graduate and earn family-sustaining careers while contributing to their local workforce development! Community College Baccalaureates are all about student stories of achievement in the face of challenges. I love it when I hear a student saying that they never thought they would ever get a bachelor's degree and now they have one in construction, nursing, business, or any number of others. We interviewed one student who said that, as a result of his degree in Health Sciences at Seminole State College, he received a promotion and raise at work, then bought a house and a dog! These degrees don't just change the students' lives, but rather their entire family, their communities, and where they work and live. It's the realization of the American Dream every single time!