October 23, 2023
Get Out of the Silo: The Case for Staff Cross-Training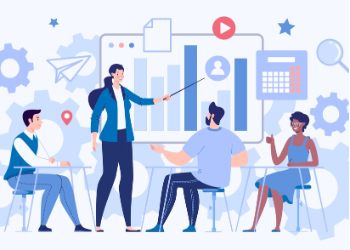 charactervectorart/Shutterstock
In the current atmosphere of higher education, feeling isolated or out of the loop at work can sometimes seem like a contradiction. Thanks to technology, updated processes and systems have helped make our work as administrative staff more efficient than ever before. We can feel connected to one another with a quick Slack message and usually find the information we need through a short email or on-demand online training.
While this increase in effectiveness has helped develop content-area experts in fields like financial aid, admissions, and advising, it has left many staff feeling stuck within their administrative departments and separated from the community of professionals on campus. This phenomenon, known as siloed work, has unfortunately become the new normal for too many staff on college campuses.
Thankfully, it doesn't have to be this way! Let's examine some of the benefits of intentional cross-training to administrative departments, which include increased efficiency, better campus experiences for students, and professional development opportunities for staff -- all while retaining the best employees.
Improves Campus Efficiency Amidst Turnover
According to the September 2023 report from the College and University Professional Association for Human Resources (CUPA-HR), "more than half of [higher education] survey respondents said they are at least somewhat likely to look for other jobs in the next 12 months." Specifically, staff departments like student affairs and enrollment management rank among the highest for employee turnover.
Inevitably, high turnover results in operational gaps that can take weeks, if not months, to fill. Through cross-training, departments provide themselves with some cushion when it comes to handling vacancies. Simply having more people trained to do the work of one another can alleviate the immediate pains of an unexpected vacancy.
That being said, team and campus cross-training should not be seen as an encouragement for campuses to dissolve positions or permanently add work to the full plates of others. However, cross-training can alleviate the immediate stress of filling positions, a frequent challenge for many higher education supervisors. Having trained, competent staff ensures that offices don't suffer when employees inevitably leave the department.
Provides Students with Holistic Support
Developing a cross-training program for campus staff can help ensure students feel supported no matter the office they find themselves in. According to a case study by Achieving the Dream, campuses incorrectly assume that students can independently navigate the complicated maze of student services and resources.
In reality, students tend to develop close relationships with a single advisor, mentor, or tutor who they go to with all their complicated campus questions. By providing quality cross-training for staff in the critical areas of advising, financial aid, and student accounts, campuses can begin to demystify the resources and processes that are critical to students' success. Equipping all staff with the basic knowledge and skills to answer student questions will ensure that students don't leave campus without the support they need.
Extends Opportunities for Professional Development
Providing staff with training in areas outside of their job's immediate scope allows staff to develop skills and new competencies that contribute to their overall professional development. Developing new skills gives staff unique opportunities to see how their skills relate to different divisions and roles on campus. In turn, cross-training can promote growth within the organization rather than staff seeking new, external opportunities, especially within leadership roles.
The Harvard Division of Continuing Education recognizes the connection between continued training and employee satisfaction. According to the article by Lian Parsons, "Professional development can help to bolster employees' confidence in their work." The opportunities also support staff as they advance their careers both in and out of the institution. As institutions of higher learning, we ought to be providing the highest level of professional development and learning to our employees. A well-developed cross-training program is an excellent opportunity to do just that!
Centers Teamwork and Promotes Cross-Campus Collaboration
Working outside of the administrative silo has a positive effect on campus staff through building positive work relationships with their colleagues. Staff take pride in their work and see themselves as an integral part of a greater organization, not just an employee within their department. Developing campus-wide formal and informal cross-training creates opportunities for staff to learn and interact with people outside their departmental silos.
Additionally, collaboration among departments can spark creative problem-solving to challenges. Cross-training allows staff to bring their diverse skills to the conversation. It is unlikely that every great leader and problem-solver resides in the same department. Bringing staff together is an excellent way to promote innovation through collaboration on campus.
Lynda Gratton and Tamara J. Erickson's article in Harvard Business Review explains that the challenges of today require input and involvement from people with different views, backgrounds, and areas of expertise. By cross-training and including more voices in campus conversations, innovative approaches and ideas will naturally develop.
The Bottom Line
Cross-training staff is critical to the success of college campuses and the students who call the institution home. By providing numerous opportunities for staff to learn, engage professionally, and expand their skillsets, campuses will become more effective and efficient spaces of higher learning.