September 21, 2023
Take Your Heart Off Your Sleeve Before You Start Your Job Search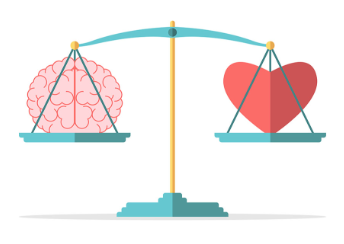 inimalGraphic/Shutterstock
A job search can feel like a personal pursuit, but it's not. It's a professional search. It can be hard to keep that in mind when a room full of people is launching questions at you to decide whether or not you may fit on their team and at their college.
No matter how secure you normally feel in yourself, the rigors of the job search can take a toll if you don't have a good self-care strategy. Here's what you need to know to gear up for your search.
Detach Yourself from the Outcome
Keep in mind that job searching is a process. As you work through it, you learn important lessons like how to discuss your successes and challenges and how to use examples to demonstrate both. You also refine what you're targeting, and you become more adept at talking through why that's your focus. All of this important work strengthens your personal narrative and enhances your self-awareness. While the job search is driven by outcome, finding comfort and fluency in it means detaching from the outcome and embracing the search for all that it can teach you about who you are and what you're targeting.
"The prolonged nature of the job search, with its highs and lows, can create an emotional rollercoaster that tests our resilience... While the pursuit of a job is driven by its outcome, the journey's emotional toll necessitates a conscious effort to detach from the final result and instead embrace it as a profound learning experience, fostering self-awareness and personal growth," explains Matthew Warzel, career coach and president of MJW Careers.
Recognize that you've entered a reinvention phase. Welcome it for what it stands to teach you.
Guard Your Chill
Aim to stay emotionally even during this process. Try to refrain from getting too high or too low during your search. Recognize it when you feel like you make a good connection, write a great cover letter, communicate well during a conversation or interview, or discover a university that wasn't on your radar.
But also train yourself not to daydream too much about a role that isn't yours yet. And try to refrain from seeking out and obsessing over subtle clues or hints that you think may be outcome indicators. (An interviewer used an exclamation point when responding to my thank you note or spoke about the role as though it's already mine). These may feel like they give you a moment of control or clarity, but neither you nor your interviewers know the outcome of this job search mid-process. Don't put yourself through the frustration and heartache of clinging to false indicators.
A million things can happen during a job search. You can be leading the candidate pool, and then a last-minute internal applicant can throw their hat in the ring and snag the position. Likewise, a candidate who has an edge on you can accept a role at a different institution or a second position can get added.
You never know what is going to happen over the course of this search. The only thing you can control is how you engage. So, find an even-handed approach that helps you field the logistical and emotional demands. Get the support you need in both areas and recognize that you're bound to encounter unexpected developments.
"Know the average length of a job search hovers around five months, so if you're not immediately hearing back from recruiters and hiring managers, it's not you -- it's the job market," career coach Dr. Kyle Elliott points out. "Focus on those areas of the job search that you can change and optimize, such as updating your resume and LinkedIn profile, reaching out to contacts and decision-makers at employers of interest, and keeping up the momentum even when it feels tough."
It's worth noting that five months was reported as the average duration of unemployment according to the U.S. Bureau of Labor Statistics, but searches in higher ed may take longer. A recent HigherEdJobs article examines average job search lengths specific to higher ed.
Create Systems that Serve You
Recognize that you're engaged in a demanding reinvention project. There are deep and wonderful lessons to be learned, but growth is often painful, as it can be in this case.
Warzel emphasizes the importance of building a strong support network to emotionally fuel your search. "Sharing your experiences, challenges, and triumphs with friends, family, mentors, or even fellow job seekers can provide a vital outlet for expressing your feelings and gaining perspective," he points out. "Engaging with others who understand the complexities of the process can offer reassurance and remind you that you're not alone in your journey. Their insights and encouragement can provide a much-needed boost during moments of self-doubt or disappointment."
When it comes to logistics, Elliott notes that being mindful and systematic can give you more control in the process: "The job search can take a toll on your mental health, especially if you haven't looked in a while and aren't used to repeated rejections or silence from prospective employers," he explains. "You might find it helpful to set a daily or weekly goal around your job search efforts, such as how many applications you'll send out or how many people you'll network with at your target employers. Importantly, you want this goal to be focused on an activity that's within your control, as this allows you to maintain ownership of your job search."
Mindfully build self-care into your job search routine and make it as much a part of your search preparation as your materials and interview prep.
You Are Not Your Job Search
Searching for a job can feel humbling, hard, and exhausting. It can make us feel lost, overlooked, and unsure about our future. When you encounter those feelings, it's important to take a break and recenter yourself.
"Embracing this journey as an opportunity for growth and self-discovery can be transformative," Warzel explains. "Practicing self-compassion, maintaining a healthy work-life balance, and engaging in activities that bring joy and relaxation can all contribute to a more positive outlook during this challenging period."
Your job search is not an evaluation of your worth as a human being. It's simply an assessment of where your professional skills may best fit. You matter more than your job search, so take your heart off your sleeve. Then get out there and compete for your next great fit.