September 19, 2023
Sustainability in Higher Ed: Good for the Environment and Your Campus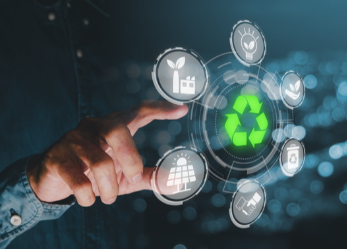 Mongta Studio/ Shutterstock
As powerful drivers of innovation and breeding grounds for novel solutions, higher education institutions have the potential to transform our nation's sustainability efforts. Colleges and universities with thousands of students enrolled can make an impact by working to reduce their footprint. What's more, they are in a unique position to lead and inspire the future of sustainability as they educate the next generation.
Julian Dautremont, director of programs for the Association for the Advancement of Sustainability in Higher Education (AASHE), describes in depth the three aspects that uniquely position higher education institutions to contribute to sustainability.
"First, [institutions] can ensure that their students (i.e., future leaders in business, politics, science, culture, etc.) understand the key sustainability challenges and are prepared to help address these challenges," he says. "Second, they can focus their research prowess on the development of sustainability solutions (e.g., advancements in renewable energy technology). Finally, as large organizations that often have a significant physical presence in their communities, campuses can serve as important demonstration sites for modeling the successful implementation of sustainability solutions."
Not only are colleges and universities in a position to help -- they may be expected to engage in sustainable solutions. According to a 2021 national survey by Pew Research Center of 13,749 U.S. adults, including 912 Gen Z adults, "a majority of Americans (64%) say efforts to reduce the effects of climate change need to be prioritized today to ensure a sustainable planet for future generations." So, the students enrolling today are not only likely to be open to sustainability efforts but may expect them or even help to drive them.
While some institutions may have a great handle on sustainability, others may be just beginning their journeys -- and that's okay. There are so many novel solutions and wide-scale efforts we can adopt, but just as "Rome wasn't built in a day," colleges and universities have to start somewhere and work towards these bigger initiatives. Even small changes now, such as banning the sale of single-use plastic water bottles or the use of plastic bags, are an important start.
Getting Inspired
If you need some inspiration or are just curious what sustainability at its best can look like, consider these examples.
Every year, the National Association of College and University Business Officers (NACUBO) presents a select few institutions with their Excellence in Sustainability Award, which "recognizes institutions for a specific campus innovation, process, or program that advances environmental sustainability in higher education or progress toward a more environmentally sustainable future."
This year's winners were Colorado State University (CSU) for its CSU Spur campus and Michigan State University (MSU) for its MSU Surplus Store and Recycling Center.
MSU has implemented robust waste management programs, such as vermicomposting and Spartan Upcycle, which "invites [students] to rethink traditional definitions of value and purpose, and creatively reuse and repurpose discarded materials collected through the everyday operations of the MSU Surplus Store & Recycling Center," according to their site. It promotes reuse and helps to divert items from the landfills. Their vermicomposting program involves collecting fruit and vegetable waste such as peels, rinds, and coffee grounds from MSU dining facilities and mixing in leaves collected from campus and East Lansing, said a 2022 MSU news article. Worms chew their way through the mixture, creating compost, which is then used on campus and sold in MSU's surplus store. During 2021, the worms worked through 140,000 pounds of food waste, greatly reducing the university's need to haul waste away to commercial composting operations.
Colorado State University Spur is "a place for research and education -- free and open to the public!" according to its website. The three buildings that compose the campus were built to LEED Gold standards. They were "constructed using low-emitting, recycled, and regional building materials, and high efficiency, low-flow water fixtures contribute to a 40% reduction in indoor water consumption," says a recent news story from CSU. Other notable features include a system in one of the buildings that catches water from sinks and showers for the flushing of toilets, "saving an estimated 264 gallons of water each day," and a system on campus that captures stormwater and uses it for irrigation for food production.
These two schools are great examples to consider together. They show what can be accomplished when designing new facilities but also remind us that there are many simple ways to reduce waste on your existing campus. Every school has something to contribute to sustainability, even if some of the systems designed to reduce waste are out of reach.
"There are many different paths institutions can take towards sustainability," Dautremont reassures us. "It's not uncommon to start with relatively small changes that can serve as proof of concept and help generate the support and momentum necessary to tackle bigger projects. As institutions take these first steps, they will likely discover that, as we highlight in Beyond the Right Thing to Do: The Value of Sustainability in Higher Education, sustainability is often just smart business. It can contribute to key institutional goals such as boosting revenue and enrollment, while also preparing students for solving society's greatest challenges."