May 18, 2023
Stackable Credentials: Building Enrollment Growth Through Program Design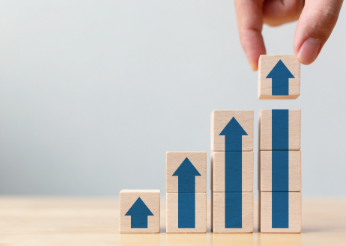 Monster Ztudio/Shutterstock
College enrollments are a grave concern to campus leaders. There are nearly 1 million fewer students since before the pandemic began. Undergraduate enrollment alone dropped 466,000 students, or 3.1%.
When we add in the projected decline in high school graduates, the changes in college-going behavior due to costs and job opportunities, and the drop in international student recruitment, we can see why colleges and universities are seeking new ways to meet enrollment goals. The first step is to improve year-to-year retention. Nearly one-quarter of those who start a bachelor's degree program drop out after one year. The second step is to improve graduation rates. About one-third of four-year college students fail to graduate in six years.
Next, more campuses are developing pathways to re-enrollment for those with some college credits but no degree. There are nearly 39 million people in this condition. Still, other institutions are developing so-called "stackable" programs.
The goals of stackable programs such as the Career Launchpad at Metropolitan State University of Denver are to improve access for students who aren't certain about attending college and provide periodic milestones of achievement. Such milestones not only motivate students with shorter paths to a credential but also provide an exit point with evidence of accomplishment for employers. The idea is to recognize the accomplishment of specialized expertise, as well as general knowledge, that employers value. Such programs are classic "win-win-win" for students, colleges, and employers.
Stacked credentials are individual achievements accumulated over time. These periodic certifications and credentials are called "stackable" because they can be designed to "stack" on top of each other, thus building to something more substantial. This model is also called a "career ladder," with each rung on the ladder representing a step up in professional accomplishment. These are recognizable awards, evidence of skills and abilities learned and practiced. As microcredentials, they can be accomplished in short chunks of time.
The path to a bachelor's degree looks less formidable when a student can earn a certificate of accomplishment in a semester or less. Think of merit badges in Scouts: each recognizes a milestone but many are required for the top reward of Eagle Scout or Gold Award. The premise is that students will gain confidence with each achievement and thus be motivated to take the next step. But if they must stop out for family or financial reasons, they will have earned a job-related, employer-recognized credential to show for their effort.
Ideally, these career ladder programs are designed with industry or professional association, or union, assistance to ensure labor market value. They also require regular advising by instructors. The credentials can then be acknowledged as ascending benchmarks, demonstrated skills, and competencies.
The most common career ladder approaches are in education and nursing, but the model can be applied in many other fields with some innovative thinking. In education, the "stackable" option is Teacher Certification as a companion to a degree in another subject, usually a liberal arts major.
Nursing has several levels of licensure, including LPN (Licensed Practical Nurse), Associate of Science RN (Registered Nurse), and BSN (Bachelor of Science in Nursing). Therefore, students can progress from LPN to an associate degree to a bachelor's degree through continuous learning, on and off-ramps, and licensed certifications at each stage. In addition to professional education, candidates have required courses in general education to ensure an introduction to the liberal arts as well as sciences.
A similar career ladder model is used in other fields, including information technology, engineering, and business. Microsoft has four levels of Excel certifications. Such certificates can be used to fill in skills gaps, helping the candidate qualify for a job, a promotion, or a raise.
Stackable credentials can be designed to be vertical, i.e., rising in difficulty and complexity; horizontal, i.e., combining related topics in a package; and hybrid, i.e., a combination of vertical and horizontal stacking.
Nearly one in ten undergraduates is working toward a stackable certificate, according to the Georgetown Center on Education and the Workforce. Major providers include online course companies like Western Governors University and edX as well as institutions such as Metropolitan State University of Denver.
Colleges and universities must be innovative if they are to be sustainable. Renewed attention to recruitment, retention, reengagement, and program design are essential, and stackable credentials are one means to combine all four approaches.