November 7, 2022
Beating Winter Blues: How to Stay Positive and Energetic at a Tough Time of Year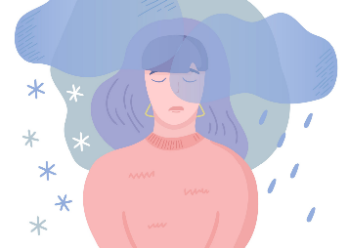 Evgenia.B/ Shutterstock
Studies have found that happiness is a key ingredient for productivity, which in turn fuels career advancement and even persistence in a job search. Without happiness and enthusiasm, you're just slogging through the days, but this time of year, especially if you live in a cold climate, it's not uncommon to feel sluggish and a little bit blue. The summer solstice has come and gone, and the daylight hours are dwindling as we head toward the winter solstice. On top of that, the dreadful 'fall back' time change has robbed us of even more natural sunlight.
If the change of seasons has you feeling a little down in the dumps, you might be experiencing winter blues (sadness that is often short-lived and often connected to specific issues). However, a select few have seasonal affective disorder (SAD -- a more serious, persistent sadness that interferes with daily functioning). While winter blues are less intense, both can have an impact on work or your job search (if you're in one). Let's examine some of the signs and remedies for coping.
What Are Winter Blues and SAD, and What Impact Do They Have at Work?
"The winter blues are usually brief and may resolve on their own," says Lee Keyes, PhD, who has over 30 years of experience as a licensed psychologist, including 20 as an administrator of the Counseling Center at the University of Alabama. "Sometimes it is connected to specific issues such as holiday stress or missing loved ones. People can address the winter blues on their own through simple adjustments, while this is not the case for SAD."
Seasonal affective disorder, on the other hand, presents with symptoms similar to those of depression but follows a seasonal pattern.
"Some possible symptoms include feeling depressed most of the day (nearly every day), losing interest in activities you once enjoyed, experiencing changes in appetite or weight, having problems with sleep, and feeling sluggish or agitated," Keyes explains.
Not surprisingly, these symptoms can take quite a toll, and there's no off switch to hit when you walk into the office. Keyes says SAD symptoms can cause distress or impairment on the job including loss of productivity, errors in work, and difficulties or stresses in work relationships, among other issues.
Experts seem to agree that SAD is the result of an imbalance of two chemicals in the brain, melatonin and serotonin, due to less sunlight during the winter months. Unfortunately, many higher education professionals are spending their days at desks and in offices with no windows. This only serves to aggravate the clinical condition.
How to Cope
If you're dealing with winter blues, Keyes offers a few steps you can take to get yourself into a better mental state, including increasing activity levels, going outside frequently, taking up winter projects that keep you occupied, and addressing any stressors associated with the season.
If you're working remotely and have a laptop, try spending short stints outside to catch some of those rays of sun, or experiment with a desk set-up in a sunny spot with great natural light coming in.
If you're back on campus, be sure to take advantage of your breaks and get outside when weather permits. Take a walk across campus if you have the time during lunch or between meetings. If your hours are flexible, you may also be able to rearrange your schedule to do some work after the sun goes down. Some faculty members with small class sizes might even be able to host class outside if the weather is nice enough.
Take the time to reflect on what might be triggering your winter blues and address those stressors as Keyes suggests. Winter blues can throw a wrench in your plans, but with some effort, you can push through to maintain your momentum and avoid career or job search setbacks.
If you find that these remedies aren't helping and the depression persists, you may be dealing with seasonal affective disorder. Maybe this is new for you, or maybe you've been struggling with seasonal affective disorder for years. Either way, tackling it is more complex.
"SAD requires some or all of the following in consultation with a professional: light therapy, psychotherapy, antidepressant medications, and vitamin D," Keyes says. "Phototherapy, or light therapy, requires exposure to a light emitting device at 10,000 lux for 30-45 minutes every morning. The devices are available online and include boxes you sit in front of, and visors/caps which have the lights built in and which allow you to move around during the exposure. There is some evidence that starting an antidepressant ahead of the season may prevent SAD. The exact combination and timing of any interventions may be unique to each individual."
You may also be entitled to accommodations if your work is severely impacted. The Job Accommodation Network, which provides free, expert, and confidential guidance on job accommodations and disability employment issues, lists several possible accommodations that employers may be able to implement. Again, this varies from case to case. Whether you're entitled to accommodations or not, it doesn't hurt to advocate for yourself and ask for solutions that may be of assistance to you.
Remember
"Nearly everyone can experience the winter blues and can also address it with fairly simple measures," Keyes says. Stay active, take advantage of the sunlight when you're able, and stay busy to pass the time. If those measures don't move the needle, you may need assistance from a professional, but you're not alone.
"SAD is a diagnosable disorder, affecting between 1 and 10% of people depending on their home latitude," Keyes says. "Northern latitudes have a higher prevalence due to less available sunlight."
Winter blues and SAD can derail your job search or career temporarily, but there are solutions. Take the time to find what works for you and ask for help when you need it.