July 6, 2022
Five Ways to 'Think Again' About Your Career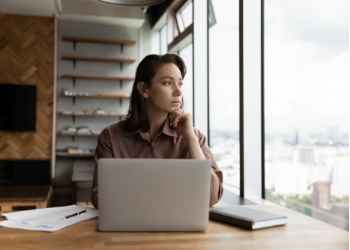 Fizkes/Shutterstock
Although his audience isn't exclusively job seekers, Adam Grant has gained a lot of traction by helping people develop their careers through best-selling books such as "Originals" and "Give and Take," popular TED Talks and podcasts, and on the pages of the New York Times.
An organizational psychologist who is a professor at The Wharton School of the University of Pennsylvania, Grant writes about work and the science of motivation; how to live meaningful, creative, and generous lives; and original thinking. All these topics can easily pertain to job seekers, but his latest book, "Think Again," where he examines the importance of rethinking assumptions, can especially resonate with careerists. Even if you consider yourself an overthinker, you could benefit from practicing the critical art of rethinking as an emerging higher education professional or someone desiring a career change in academia.
Here are five things higher education job seekers should think about from Grant's book "Think Again":
Build Your 'Challenge Network'
This is an often-overlooked type of networking. Job seekers know about expanding their network of people who can influence hiring decisions, provide job leads, or make professional recommendations. They also likely have a support network of colleagues who provide encouragement. But what about mentors and confidants who aren't afraid to give critical feedback and dissenting views?
Develop a short list of professional contacts who will challenge your career perspective and seek their feedback. "Once you've identified them, invite them to question your thinking," Grant wrote. "Tell them that you respect their pushback -- and where they usually add the most value."
Explore Your 'Open System'
Careers, like relationships and communities, are what scientists call "open systems." As the term suggests, they are not closed off from the environments around them. Consider this when thinking about your career. "We should be careful to avoid getting too attached to a particular route or even a particular destination," Grant wrote. "There isn't one definition of success or one track to happiness."
This is important for higher education professionals who think they are bound by the constraints of their careers. They use the term "track" when pursuing tenured faculty positions or they attempt to climb the elaborate hierarchy of administration with its organizational charts of dotted lines and arrows. There is more than one path to the same destination and more than one destination from the same start point.
Identify Your Contributions
Grant noticed that in the progression of his students' careers, their self-evaluations often go from 1.) "I'm not important," to 2.) "I'm important," to 3.) "I want to contribute to something important." "The sooner they get to phase 3, the more impact they have and the more happiness they experience," Grant wrote.
This is also often true for higher education professionals. Having a sense of meaning and purpose is held closely by higher education professionals, but so are less mission-critical considerations such as prestige, amenities, and title and salary attainment. Grant wrote that joy can wax and wane and trading sets of circumstances for another isn't enough for career satisfaction. Instead, build toward greater meaning by enhancing your contributions to others and rethinking what you can uniquely offer.
Deescalate Your Commitments
Two related career pitfalls from the area of psychology that Grant wrote about are "escalation of commitments" and "identity foreclosure." Escalation of commitment is when you continue to invest in a plan even when it isn't going as well as you hoped. Higher education professionals have tremendous sunk costs in their careers and they often tell themselves to persist and get by on grit rather than rethinking the plan. Know when to fish or cut bait and try something different. "(As) rationalizing creatures, (we're) constantly searching for self-justification for our prior beliefs as a way to soothe our egos, shield our images, and validate our past decisions," Grant wrote.
If you enter a doctoral program or a particular functional area in higher education, you might be settling prematurely on a sense of self and not thinking of alternative selves. This is called identity foreclosure. By the time you enter a tenure-track job or reach a certain age, you might be resigning yourself to being the person you wanted to be years ago when you were going to "grow up," but if it's no longer satisfying to you, consider a change. As Grant advises, you're better off thinking about careers as actions to take rather than identities to claim.
Schedule Regular "Career Checkups"
A great way to correct for escalation of commitments and identity foreclosure is to schedule a career checkup. Just as you should see a doctor regularly even if you're healthy, you should be rethinking your career on an annual, quarterly, or semesterly basis. "It's a way to assess how much you're learning, how your beliefs and goals are evolving, and whether your next steps warrant some rethinking" Grant wrote.
Set an appointment on your calendar as a reminder to have this meeting with yourself. Ask yourself questions during these checkup sessions such as, "When did you form the aspirations you're currently pursuing, and how have you changed since then?" or "Have you reached a learning plateau in your role or your workplace, and is it time for a pivot?" Grant said that career checkups help people avoid tunnel vision but it also benefits overthinkers, those at the other end of the thinking spectrum. "Knowing a reminder will pop up twice a year helps them resist the temptation to think about quitting every day" Grant added.
In Conclusion
It's easy to think you are so busy that you don't have time to think, let alone think again. But taking time to follow Grant's advice will save you time in the long run, whether it's reaching out to a former boss for critical feedback or setting a reminder for a career checkup. You'll more quickly advance your career to a phase where you'll rarely think twice about how happy you are. But even then, you should still think again from time to time.