June 27, 2022
Stop Espousing Your Value Proposition and Start Delivering on It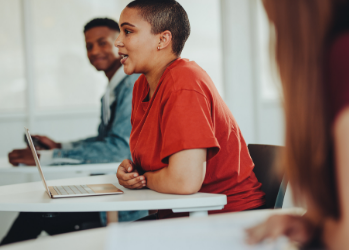 Jacob Lund/Shutterstock
For over the past decade, higher education leaders have been discussing the need to clarify the brand promise and value proposition of a college experience and degree at both the macro, (industry level) down to the micro, (institutional level) for potential and current students and families. As an industry, we frequently talk about the need to more clearly espouse the importance of degrees and credentials, particularly as it relates to preparation for employment or advanced study. All colleges and universities, but particularly those with residential campuses claim to offer uniquely transformative experiences to help students meet their educational and career goals.
Many if not most strategic planning efforts identify mission and institutional values as the foundation upon which the college's future is built. If plans are values-based, mission-focused, and designed to be transformative, why are our institutions never transformed? Why are so many of our baccalaureate degree-granting institutions dealing with the same problems of low four-year and six-year graduation rates? According to the most recent data found at the National Center for Educational Statistics "Sixty-four percent of students who began seeking a bachelor's degree at a 4-year institution in fall 2014 completed that degree at the same institution within 6 years." The 4-year graduation rate for students entering in fall 2014 was only 47%. I have said this before but it bears repeating, no parent, guardian, loved one, etc. drops their traditional-age student off at college with the hopes that they will be in the lucky two-thirds to make it out in six years. These statistics are the total average rates of both public and private institutions. If we delve deeper into how graduation rates differ demographically by gender, race, and ethnicity, the data shows a need for mission reaffirmation with a focus on lived values in action. In other words, forget the value proposition, we need a values revolution.
I posit that now is the best time for that values revolution to commence. For the past two decades, demographers have been predicting the "looming higher education enrollment cliff" citing declining demographics with lower birth rates resulting in fewer students enrolling in colleges and universities. The demographers however did not confer with the epidemiologists (or the psychic either for that matter) to know what effect a global pandemic might have on these already ominous predictions. Now that we are emerging from the wreckage of COVID, there are some lessons to be learned that I hope will impact how we plan strategically future-forward in a way that puts equitable outcomes center stage. The way to do this is to revolutionize our institutional values for indeed, if mission and values are the bedrock of our strategic plans then anything built upon a faulty foundation will not stand.
So why now? Because COVID exposed higher education's flaws by putting our "issues" out in the public domain for all to witness on web-based teleconferencing platforms where we tried to replicate antiquated policies, practices, and pedagogy. What we learned was if the course content failed to engage in person, switching the course to online didn't net better learning outcomes. Similarly, if there was no robust student government association pre-COVID, Zoom didn't remedy student apathy because we utilized a more convenient platform for students to engage. We also saw that the students who couldn't pay their bills pre-COVID, stayed locked out of education because we stopped them from returning to our institutions if they owed us a balance. We also denied them their records, thus blocking their attempts to enroll at another institution. Although some schools used ARPA funds to clear balances, these one-time remittances didn't address the affordability issue when a family's income is incongruent with the cost of attendance. These issues gave rise to anger, anxiety, that not only questioned the value of the degree, but the value of the experience leading to the degree.
We continue to use marketing to communicate the brand promise, drawing students to our institutions with promises of finding their place in a space that will educate them, graduate them and prepare them for careers or advanced education and a network that will ensure they remain connected to what is sure to be their beloved alma mater. One year after they enroll we find ourselves surveying a quarter or more of them on their way out the door to find out why they are leaving. In response, calls to do more around communicating the value of a college education and degree are increasing.
The narrative that we can market our way out of our enrollment challenges is misguided, particularly if we are not currently living our institution's brand promise. Negative public perception of higher education is increasing and the fact that more marketing alone can remedy the situation that we find ourselves in based on the long lead-up to what has ailed the industry for over a decade, pre-COVID is not the solution. No brand statement, no development and deployment or re-deployment of the value proposition messaged to this audience of college non-aspirants will position us for "forward to normal". Instead of more value proposition talk, we need to get working on a values revolution.
A values revolution is not a language change, it is a culture change. We have an image problem because we have a reality problem. Some of the critics have a negative perception of higher education based on their lived experiences on our campuses beyond the tour and open house. They saw a misalignment between who we said we were when we courted them and who we showed up as when we married them. For others who never set foot on a campus, they are moved less about what we say and more about what they see. This is the time of the great identity crisis for higher education and there's a need for introspection. If we persist with an inability to speak inconvenient truths to ourselves it will be our detriment and downfall because it will prevent us from fixing what's wrong in our institutions.
I am not saying that we don't face some very real challenges like what we see happening in K-12 education, increasing societal violence, fractured families, and broken communities. Yes, those are real issues to be addressed but fixing them is not within the direct sphere of influence of higher education. We can provide student supports and action research, but we can't spend time in long lamentations about the students of the past. A focus on what we can control, our curriculum, our student centricity or lack thereof, our costs, connecting students with internships and jobs IS Revolutionary if we can break down silos of intra-campus conflicts that prevent collaboration. If we persist in focusing blame on external factors beyond our control then we may as well resign now because you will always look outward for someone to blame instead of inward asking the very real question of what do I need to do differently to serve the student sitting, zooming, or standing in front of me today. Being willing to transform ourselves, will lead to a transformation of our institutions, and ultimately a transformation of the industry. Until then stop looking for new words to describe the value proposition and instead let's act to have a real values revolution.