June 15, 2022
The Internal Candidate – The Bane of a Job Seeker's Existence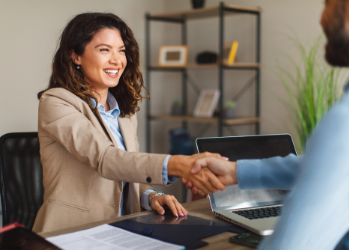 djile/Shutterstock
Many job seekers have encountered some version of this scenario: you've made it to round three. It's the final hurdle separating you from your dream job. You've impressed. You've dazzled. You start feeling guardedly optimistic about the prospect of nailing down this deal. You're connecting with the interview team. You're imagining what it might be like to work with them.
Then one of them informs you that it all comes down to you and an internal candidate. The wind in your sails dies, right then and there. You think: 'Do I even bother to continue?'
What is a job seeker to do when their competition is already on staff at the institution?
What to Know About Internal Hires
According to career experts at Zety, career sites have generated nearly 34 percent of the applications submitted in response to 2022's job postings, while internal hires have submitted only about two percent of those applications. About 30 percent of new hires came to companies from career sites, while about 15 percent of those new hires were internal. "Internal hiring is 6x more effective than all other sources of hiring" explains Bart Turczynski, Zety's editor-in-chief.
The New York Times' Alison Green explains in her Ask a Manager blog: "All things being equal, if I have a great internal candidate and an equally great external candidate, I'm usually going to go with the internal candidate. That's partly because they know the other internal players already, know how things work in the organization, and will have a faster ramp-up period. But it's more because they're known quantities in a way an external candidate can never be."
While this may be true in some cases and in some industries, Dr. Adelle Bish, associate professor of human resource management at North Carolina A&T State University points out: "Internal candidates, in my experience, often do not score as highly as expected because of the dangerous 'you know me' mindset that they enter the interview with. Ironically, it is their experience within the company, that fuels the faulty assumptions of 'you know me, you know what I can do, you know my potential, etc.' that brings on their demise. I've witnessed many internal candidates fail an interview because these assumptions lead to incomplete answers and a lack of justification for why they are the best candidate. Interviewers are left with no option but to score accordingly."
The bottom line is that you simply don't know. Internal candidates might be killer competition. They also may assume they're such a shoo-in that they don't interview competitively. There's really only one way to find out what kind of candidate you're up against.
Bring It
When it comes to a job search, you simply don't know what the hiring team is seeking. You can't see the competition. You can't control the process. Literally, all you can do is your best. So do that.
Dr. Bish explains: "Your goal is to answer each question comprehensively. Leave no doubt about your specific capabilities. Know the detailed job requirements and be prepared with clear examples of how your knowledge, skills, and abilities align with these. Provide clear statements about why you are a great fit for the position and what has motivated your application. These are areas where internal applicants may lack details or a compelling response."
It can be hard to rally and focus if you know your competition is stiff but don't think of it as a deal-breaker. Recognize it as a challenge. You bring something unique to the interview because you are an external candidate.
Jon Hill Chairman & CEO of executive recruiting firm The Energists explains that it is "absolutely possible" for an external candidate to earn a role over an internal candidate. Hill explains: "I have seen this happen on numerous occasions. Just because the internal candidate is familiar with the company it doesn't mean they have a personal connection with this particular department and hiring team, nor does it mean they're necessarily the best-qualified individual for the role. There are also disadvantages to internal hiring, most obviously that if someone is promoted from within the company will have to conduct another search to fill their old role. The point is, the company has decided to interview you for a reason, so as long as the search is still active, you should assume you have a shot of getting that job."
The Outsider Edge
Internal candidates may have an edge because of their institutional knowledge and the ease with which they stand to onboard. But being an insider isn't the only way to cultivate these kinds of qualities.
"[S]howcase examples of your abilities to learn in new environments and positively influence a team or organization in a short period of time" advises Shanna Hocking with Hocking Leadership, a firm that helps companies and nonprofit organizations build stronger workplace cultures. "The goal will be to demonstrate the advantages of hiring you, even though you will have a learning curve. Candidates won't always know if there is a preferred internal candidate, so they should give it their best for opportunities that feel closely aligned with their values and goals."
Hill adds: "My best advice in this situation is to emphasize the ways your outside perspective can be a benefit in the role. This is your unique advantage over an internal candidate in this situation, and one you should take advantage of if possible to best position yourself to get the job."
Dr. Bish considers an external candidate's perspective to be a "superpower" that can work in their favor. She points out: "You bring a different perspective. Many institutions of higher education need increased diversity to resolve issues and achieve strategic objectives. Make this work for you. Be ready to showcase the potential impacts your unique experience and capabilities will have on the department/college/university."
Competition for any great job is going to be stiff. Don't forget that you're tough to compete with too. That's what got you to round three. You belong in this fight, so show up hard and give it all you've got.