May 9, 2022
You Should Think About Working in Independent Higher Education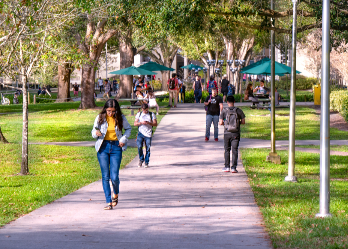 Leigh Trail/Shutterstock
Most Americans, even most college-educated Americans, have little personal experience of private colleges -- even most Americans who become professional academics or policy makers. After all, the great majority of people who go to college attend other types of institutions, such as community colleges or large state universities. For people who don't really know them, the term "private colleges" may simply evoke the leafy, overpriced, insular, and privileged campuses often portrayed in movies and on TV.
This can mean not only that students overlook independent colleges when thinking about where to enroll but also that promising young professionals -- as well as later-stage faculty members and administrators looking to make career moves -- overlook them when searching for jobs. Further, in fact, some job seekers are actively discouraged from pursuing employment at smaller, independent, teaching-centered institutions by mentors and advisors. I can testify to this: a graduate school mentor once advised me not to take a position I'd been offered at a well-regarded small independent college because my "life would just be eaten up by undergrads."
Fortunately, I didn't listen and as a result have enjoyed a rich and varied career serving a variety of independent colleges and universities. Whenever I can, I urge the brightest and most promising job seekers I know to consider doing the same.
Here are just a few of the reasons why I think you should consider working in independent higher education.
If you want to work someplace truly distinctive, independent colleges and universities represent a broad diversity of institutional types and missions. Among them you will find HBCUs, women's colleges, work colleges, institutions with "great books" curricula, denominational institutions, campuses that are avowedly progressive and those that are proudly conservative, and so on. If you want to work at an institution that is truly one of a kind, you might well find your niche at an independent college or university.
If you want to work in and for community, most independent colleges and universities are relatively small, and many are located in small towns where they are important drivers of economic and cultural life. Working at such an institution, you can discover a profound sense of common cause with both your campus colleagues and your regional neighbors. On a small campus there are endless opportunities to collaborate across disciplines, departments, and functions. With my English PhD, I never expected to find myself working with a physicist and a biologist to design first-year writing seminars, creating diversity seminars with and for mathematicians, or collaborating with local parks departments to use GIS data in planning exercises. But at small colleges and universities, fascinating projects grow from close working relationships and dedicated commitment to a specific group of students, faculty, and staff colleagues working together in a deeply-rooted place.
If you want to be more than "just" a faculty member or administrator, at an independent college, faculty and staff find opportunities to be broadly involved in the education of students as whole persons. If that aligns with your personal values and mission, you can discover a broad and rewarding role as an educator and mentor in your work with students through community service, advising, student organizations, athletic activities, student employment, and in many other ways. That work will be truly consequential for your students, and for you, and can give rise to networks of lifelong relationship.
If you want to work with students who choose the path less traveled, the students who choose small independent colleges have made an affirmative choice. They haven't enrolled at the same places where most of their friends from high school are going or at the best-known public institution in their state. And despite what some might think, that's not because they are wealthy students who can afford expensive, prestigious credentials. Independent colleges educate students who are demographically similar to students at other kinds of institutions in terms of socioeconomic status, racial identity, and parental educational attainment. But they are quite different -- because they have chosen the school that is best for them and that truly inspired them, even though it's likely their friends haven't heard of it.
If you want a professional mission and not just a career, it's no secret that smaller independent colleges face enormous challenges, and that they are a distinctive and disproportionately successful sector in American higher education. If you are inspired by the idea of ensuring the continued vitality of something truly special in the face of daunting challenges, working for a small independent college or university will energize and sustain you. A distinctive tradition in higher education -- the American-style independent college -- needs the energy and dedication of educators of all kinds to thrive. By working at one, you can join a long line of idealistic educators who have built a proud national tradition.
Obviously, nothing is for everybody. There are perfectly good reasons why many job seekers prefer to pursue opportunities in other sectors. But many simply overlook opportunities at smaller independent colleges and universities, failing to recognize the distinctive rewards that talented, idealistic, and creative scholars, teachers, administrators, and staff members can find there. Don't miss out. If you get a chance to consider working at a small private college, think about it. Seriously.