January 5, 2022
Pathways for Students: Those Who Left and Those Who Never Started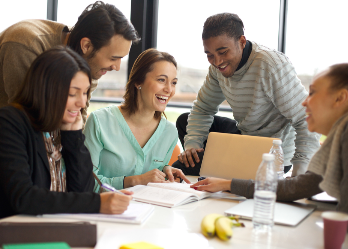 Jacob Lund/Shutterstock
In my previous article entitled "Are You Ready for All of Your Incoming Students?" I discussed the inaccuracy of believing if we [higher education administrators and faculty] build it [curricular and co-curricular programming], the ubiquitous they [students] will not only come but also love what is offered.
Taking a quote from the 1989 film, "Field of Dreams" "If you build it, he [sic] will come," speaks voluminously to illuminating higher education institutions', textual and sub-textual, articulations of excellence in the delivery of the student learning experience as integral elements of their institutional goals, mission statements, and vision statements.
Are these articulations bearing fruit?
If so, can students, faculty, staff, and members of the external community bear witness to the reality of these articulations? Put another way, there must be both demonstrable and substantive life -- reality -- beyond the spoken and printed words -- rhetoric -- that comprise institutional goals, mission statements, and vision statements.
Consider these points of inquiry:
Is the rhetoric of the goals, mission statements, and vision statements meshing with reality? [Think: Strategic planning and implementation.]
How can faculty and institutional leaders begin to know if the rhetoric of the delivery of the student learning experience -- course offerings/degree programs/student support services and beyond -- is meshing with reality? [Think: Assessment.]
If there is substantive and documentable assessment, what happens after its collection and aggregation? [Think: Closing the loop.]
Who within the institution is responsible and accountable for the collection, aggregation, and dissemination of the assessment results? [Think: Organizational structure, process, and methodology.]
Do faculty and academic mid-managers (program directors, department chairs, and deans) understand how and when to work within an assessment loop? [Think: Additive and subtractive changes and reassessing outcomes.]
These are just a few of the important questions that must be asked at intervals in the assessment loop for all students. Particularly for those potential students who far too many colleges and universities are missing as significant sectors of their population like:
Students who have [for various reasons] left the college/university before obtaining a degree.
Adults [24 and older] who have never attended college/university and have a desire to do so yet have no clear pathway toward entry.
(Note: I am not using the phrases "drop-out," "stop-out," or "non-traditional" to describe students, these terms can be increasingly viewed as pejorative and stigmatizing.)
So, let us return briefly to how this discussion began with the "field of dreams" …
What presumptive moments are higher education leaders experiencing toward [their] belief that new students will enroll, or previous students will re-enroll, in college and university with little to no tailored outreach? [This is where assessment, closing the loop, and working within the assessment loop create moments of reality beyond the rhetoric.]
Now, let us do this -- [Think: Communication.]
As academic institutions nationwide watch their enrollments plummet, and/or rollercoaster wildly, it is time for not only the lightbulb to come on and the wakeup telephone call to be answered, but it is also time for purposeful action in reaching and communicating with expanded, as well as targeted, audiences toward demonstrable student outcomes in enrollment, retention, and graduation rates. [Think: The two aforementioned populations.]
So, are there "bright lines" for such action?
I will argue that there are no hard and fixed rules, rather that higher education institutions are in the midst of "bright moments" -- innovations -- toward purposeful and tailored actions in reaching and serving two distinct and [more often than not] overlooked potential student populations.
As higher education institutions rhetorize about access and inclusion within their DEI statements, serving these two distinct populations with greater clarity and increased numbers can move rhetoric into reality.
So, what can be done?
Who is responsible, accountable, even?
I. Enrollment management divisions must look closely at their processes of data collection of students in the two previously named populations.
Who are the foundational conduits of information for enrollment management -- academic affairs via the provost/VP and faculty, student affairs via the VP/dean, academic support unit personnel, high school counselors, and others?
How current is the information on the targeted populations?
How far back does the institution wish to reach for students who left before completing their degree -- five years, less, or more?
II. Communications and marketing departments must accelerate the ways by which they communicate with the targeted student populations.
How has the plan for action [one that is embraced and understood by all stakeholders in the college/university] been conceived? This is necessary to catalyze effective communication toward "closing the deal" when students seek to re-enroll and [others] enroll as new students.
Has a plan been discussed with faculty, key student support staff (academic and student affairs), and lead administrators?
Are students aware of a consistent and recognizable college/university communication chain? (Think: What is the institutional culture of messaging and what are the responses to this messaging?)
Are emails and texts coming from "too many" departments of the college/university causing potential applicants to "shut down" and not read institutional communications? (Think: Target, not flood, prospective students with information.)
III. Is the plan clearly detailed in writing as to who in the institution does what and when? Put another way, what is the designed methodology, or first steps, after successful connections are made with prospective students?
IV. Is the institution prepared for the students in these targeted populations? [Think: institutional adjustment -- providing access without a plan and methodology for inclusion and belonging will not retain nor graduate students.]
There is so much that can be done to re-enroll students who have left before obtaining their degree, but detailed work must be done. Good intentions accompanied by an occasional text, postcard, email, and letter campaign without processes and methodologies in place for day one to graduation success are to be avoided and curtailed before they begin. Appropriating haphazard approaches to recruitment without process and method will yield inadequate, if any, successful outcomes.
In an article entitled "How Colleges Are Bringing Back Stopped Out [sic] Students," an educational COO asserts:
"It's a population that hasn't been focused on at all," said Anne Kubek, chief operating officer at ReUp Education, a San Francisco-based startup that helps colleges reenroll students who left without completing their degrees. "If you stop out at most universities, that's it. They don't connect with you. They don't follow up with you, you never hear from them again unless they're looking for monies owed."
Similarly, as mentioned earlier, institutional adjustments are necessary for these populations and I emphasize adjustments in a robust manner for adults (24 and older). In an article entitled "7 Strategies for Recruiting Adult Learners and Non-Traditional [sic] Students," the author addresses my "adjustments" point as "flexibility":
"Prospective adult students want to hear about flexibility. This population needs to understand how they can fit school into their existing life commitments. Historically, flexibility has taken on two meanings: it touches on the format of course delivery -- online or hybrid -- and the time of those classes -- evenings or weekends -- as these are perceived as more accommodating or flexible. In our interviews with adult learners, a third dimension emerges: flexibility also means the ability to stop and start the degree as family, work, or financial circumstances dictate. Prospects want to know if they need to take a semester off, they can do so without penalty."
There is a "Field Beyond Dreams." It is the space of waking and working with the resources that higher education's trained professionals can, and must, utilize to make student learning outcomes realities for graduates to be prepared for next steps into society.
In the words of Martin Carter, the incomparable Guyanese poet, "…Dream to change the world."