December 27, 2021
2021 Made Us Stronger: Here's How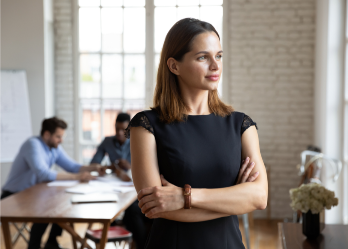 fizkes/Shutterstock
It's been an eventful year. Living through a pandemic, political upheaval, and uncertainty in the higher education workplace has been physically challenging and emotionally exhausting. It's surreal to think back to what our lives looked like at the start of 2021.
So much has happened. This year of change ripped apart the seams of tradition and forced us to reexamine what we once assumed were fixed realities. It's been a time of reckoning, recalibration, and ongoing waves of illness and loss.
Weathering hard times helps us build muscles and learn lessons that we would not have purposefully targeted. We probably have a pretty clear sense of what 2021 cost us, but what has it earned us?
We're Lean, Focused, and Mission-driven
Our institutional missions are everywhere. We've seen these a thousand times over the years. All wax eloquent about service, community, self-development, love of knowledge, etc. These are lofty aims in ordinary times, but our commitment to our professional mission takes on a whole new meaning when so much is at risk and so much is at stake.
Now, we are truly pursuing our institutional missions because, at our core, we believe that education is a vital change agent. We share the belief that education trains students to do the kind of deep, informed, ethical thinking that can seek out truth and justice, even in the darkest hours.
In 2021, we've had to put more of our own skin in the game. We've gone above and beyond to help students cope. Many have too much to manage and don't have the resources, tools, and support system they need.
"Working in higher education during 2021 as an instructor required a delicate balance between compassion/empathy and accountability" explains Karen Southall Watts, humanities instructor at Bellingham Technical College and business instructor at Canadian College. "Students, many of whom were already juggling life's demands before Covid, spent this past year dealing with long-term stress, unpredictable rules and health guidelines, and the challenge of learning and connecting online. A huge challenge for those of us teaching was understanding when we needed to push, encourage, and remind students of expectations, and when we needed to listen, empathize, and create workarounds for students who were legitimately overwhelmed."
In addition to our students, higher education professionals have supported family members, co-workers, and neighbors who needed our ongoing patience, generosity, and compassion. Hard times quickly devour the fatty tissue of platitudes and pleasantries. We've become lean, focused, and mission-driven.
We Are Resilient
Nearly a quarter of Americans, according to Pew Research Center, have been reflecting on life's big questions a lot in 2021. Nearly 70 percent believe that powering through hard times builds muscle, fortitude, strength.
Every day, we've had to find the wherewithal to handle logistically and emotionally taxing situations. Luckily, we're in an ideal environment to explore life's most important questions. For many of us, we do more than harbor a love of knowledge; it is our safe space and our coping mechanism. We look to scientists, philosophers, sociologists, artists, psychologists, mathematicians, theologians, and other thinkers who give us a sense of comfort and peace during the hardest times. We find patterns in history and nature that remind us: none of the illness or upheaval we're experiencing is unprecedented. While the technological lens we're seeing this through may be new, all of this has happened before.
We Are Flexible
Providing learning options for students was a tremendous adjustment for educators, and it's ongoing. For many educators this has involved learning new technologies and changing how they teach. It became further complicated when classes resumed in fall 2021, and waves of covid hit our campuses.
"In 2020 there was the sudden shift to distance education that proved challenging for many of us, but I found the transition back to the traditional classroom just as difficult in 2021." Explains Lynn Wolfe, adjunct professor of English and ESL at California Baptist University. "There's a different dynamic in person that I had to readjust to, and there's still anxiety about COVID-19. Every other week students would test positive and have to quarantine, which caused them to miss class sessions and assignments. Near the end of the fall semester, I ended up switching my classes to a hybrid format in order to accommodate the students who were in quarantine."
Just as the professional world has adjusted to a new paradigm, so have higher education instructors. "In the past I was a bit skeptical of distance education, but returning to campus this year convinced me that universities should expand options for online learning -- not only because of COVID-19, but because many students (and staff) have found that we prefer that format" Wolfe explains.
Fostering more flexible solutions for students and staff is a good take away, even if hard earned. We may not have wanted to adapt our classroom instruction and offer remote options. But now, we know how to do it, so any future decision-making around this option will be informed by our wealth of experience.
We're Ready for Reprieve
We all need the rest that the holiday break invites. We've earned it. We need time to recover, emotionally and physically, from what we've experienced.
"I have listened to a number of colleagues talk about the struggles of working through the pandemic, and how they have had to re-evaluate their values and priorities which ultimately led to their departures" shares Bobbie Denise Cole, assistant vice president of student life at William Peace University. "I've witnessed people lose their joy for the work and it has left me in a constant state of wondering how do we recruit and retain talented and passionate individuals committed to the success of students while shifting what the future of work looks like in higher education. I've coped with this huge challenge by continuing to keep my own why at the forefront and by trying to ensure that everyday I do something I love."
Take time and do what you love. Replenish yourself. Recognize all that you've come through and the value of the work that you've done. "The challenge of job transition in higher education will continue into 2022 and I hope that our industry and our universities will do the hard work that is necessary to redefine work in the university space and meet the newly defined needs of faculty and staff who work tirelessly to serve students" Cole writes.
Reward yourself for all that you've done this year. Building muscle hurts; growth always does. But it's the only way to evolve.