February 16, 2021
Black Cultural Centers Still Matter on College Campuses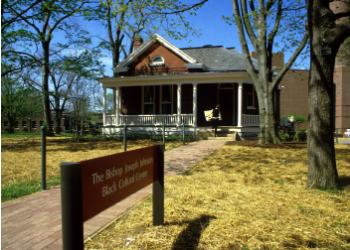 Gerald Holly,
CC BY-SA 3.0
, via Wikimedia Commons
Black cultural centers (BCCs) came into existence during the 1960s, arguably a time when the country wrestled with many social issues that persist today, namely racism, diversity, and inclusion on college campuses. In this way, Black cultural centers represent a beacon of community and hope for many Black students, staff, and faculty who seek representation, affirmation, and belonging on campus. Given the politically contentious issue of racism in higher education as of late, there are many ways BCCs continue to bring a sense of hope and mattering in higher education, both through the staff and professionals who maintain these affirming spaces and the programs produced to promote Black history and excellence within colleges and universities.
Almost two decades ago, there was concern that BCCs would be a diminishing feature on college campuses. Specifically, in an interview with Diverse Issues in Higher Education, Lawrence W. Young and Michael Hannon, former director and assistant director of the Paul Robeson Cultural Center at Pennsylvania State University, said, "As we commence a new millennium, the staying power of Black cultural centers will surely be tested. There is now and will continue to be pressure to move from "Black" to multicultural, and the rationale for such a move must be addressed. Whichever model best fits a particular campus, the goals should be the same -- knowledge, understanding, interaction, respect, and dignity." Fortunately, this has not been the case, and BCCs continue to be prevalent with over 175 cultural centers and institutions across the United States, according to the Association for Black Cultural Centers.
A part of the staying power of the BCCs lies within the professionals that manage the center and the students that influence programs, events, and university initiatives. Part of this is by design, and the other part represents an intentional effort to collaborate with multiple campus partners to improve programming for Black college students. Speaking with Prester Pickett, coordinator of the Howard A. Mims African-American Cultural Center at Cleveland State University, he recounted many of the collaborations that have ushered the center through this pandemic. Specifically, he said, "Partnerships have been an essential part of our programming in the 25 years that I've served as the Coordinator of the HAMAACC. Therefore, we didn't need to go far to find partners for our remote efforts to develop virtual programs. We called on our own faculty to participate in programs, and we extended those invitations to faculty as close as Cuyahoga Community College. We're neighbors on campus to the Mareyjoyce Green Women's Center and work closely with our office of University Engagement. We also coordinated a pre-conference panel discussion for Project 400 with partnership support from Karamu House Theater and the Cleveland Public Theater, as well as a local youth program known as 12 Literary Arts. These offices and communities were essential to our interests in celebrating diversity at CSU with our virtual programming efforts."
Given this perspective, not only do BCCs fulfill an organizational niche in the overall diversity, equity, and inclusion efforts of a university, they also possess an outstanding ability to collaborate with multiple, diverse constituencies to evoke a sense of community and awareness of issues impacting Black life on campus.
In addition to annual programming, Black History Month is a significant opportunity for BCCs to engage with the broader campus community. With social unrests happening among different communities around the country and the significance of movements like Black Lives Matter being an active part of student political orientation, the ways to approach this work and this month is complex and varied. Evante Topp, the assistant director of African American Student Affairs at Louisiana State University, elaborated on this and said, "It's been an ongoing conversation every year since I've been here, so the approach hasn't necessarily changed. With social justice work and academia, in general, we make it a point to stay abreast of political incidents on campus and the state of politics in our nation. Recently, we've had programs that discussed the election and voting process, leveraging that dialogue and momentum to give students ways of staying engaged in these important topics beyond an election year. So really, I think it's about being current and knowing what's happening in your country and addressing it during Black History Month if you have the leverage to do so, and also moving forward." Despite the limited resources that often present constraints to student affairs departments like BCCs, the ability of professionals like Evante Topp and Prester Pickett displays the creativity and adaptability BCCs have come to embody, much like the pioneers, leaders, and activists celebrated during Black History Month.
BCCs are not without challenges that exist for the larger institution, especially as it relates to retention and graduation rates for Black students, precarious funding for multicultural affairs and student services, and hostile campus climates, to name a few. However, among the storm of issues higher education must address to maintain its commitment to anti-racism and equity, BCCs remain safe, inviting, and developmental spaces for students, staff, and faculty that continue to push the needle. If the passion of Black administrators and faculty is any indication, the legacy of these centers and programs still matter and will continue to matter if students have anything to do with it.