January 14, 2021
Getting the Most Out of Virtual Conferences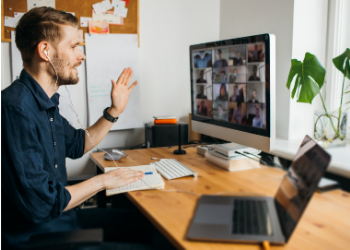 Girts Ragelis/Shutterstock
Attending conferences is a crucial part of career development for higher education professionals. Whether you're presenting your research or introducing yourself to people who will someday offer you a job, your next off-campus business trip might change your career.
But like many professional gatherings in the current pandemic environment, virtually all conferences and workshops have gone virtual.
Professional organizations like the American Psychological Association (APA), are taking what would've happened in three days at a convention center and moving their sessions online, available live and/or recorded to watch for a limited time.
"I think hybrid conventions are the future (with a blend on in-person and online programming) because you can take advantage of so many things with the virtual platform that you can't take advantage of when you're just in the room," said Alicia Aebersold, chief communications officer of APA.
Online chats during keynotes or real-time audience polls and question submissions for presenters help democratize the Q&A experience. They prevent one or two people from asking all the questions, especially when preceded by a long comment that is more public posturing than an inquiry. Randomly assigned breakout rooms also better involve introverts and split up any cliques. Another benefit is easier access for graduate students and professionals who would not otherwise have the opportunity because of time and travel budget constraints.
APA typically attracts 12,000 people to its annual convention, but when the event was switched to online just three months in advance, nearly 15,000 people registered and "attended" sessions in the first month. APA offers discounts up to 85 percent off the normal in-person costs.
Conference organizers still have considerable expenses: virtual conference hosting services can range from $30,000 to $250,000 just to offer the bandwidth and storage capacity for live and recorded sessions, while also simulating a face-to-face environment with virtual exhibit halls, happy hours, and other networking opportunities.
More than 7,000 student affairs professionals annually attend the NASPA Annual Conference, but organizers had just two weeks to adapt to virtual alternatives for 2020 and seven months to prepare for 2021.
The challenge for organizers is to meet the needs of attendees. For academic conferences, especially for disciplines like computer science that use the proceedings at peer-reviewed conferences instead of journal submissions, the opportunity to present research is incredibly important. For other conferences, like NASPA, networking is paramount.
"Even though we put a lot of effort into educational sessions and keynotes, people invariably rate networking as the highest part of the meeting experience. That immediately creates a challenge from a planning standpoint but also for the participants. How do you replicate, or at least create new opportunities, that form that kind of engagement in a virtual space?" said Kevin Kruger, president and CEO of NASPA.
While conference organizers are adapting, attendees also have to rise up to the challenge to get the most out of a virtual conference. Is it possible to replicate networking in a virtual conference?
Allison Pugh, sociology professor at the University of Virginia, is currently working on a book about person-to-person work, technology, and the stratification of human contact. A regular attendee of the American Sociological Association's Annual Meeting, Pugh was surprised by some of the benefits from the last Annual meeting, such as the chat-room functionality and the intimacy and immediacy of having faces staring back at her on the screen, but she said the networking aspect couldn't be replicated.
"Most of the interactions at conferences are when you're walking down the hallway and you see somebody and you start asking questions about how they're doing or about their work and if they want to get a coffee," Pugh said. "That kind of networking is now gone and all we have left is to email people and it's just not as good. Email or setting up a one-on-one Zoom call is more of a colder, drier ask."
"Everyone craves the hallway conversations and sense of reunion they feel with in-person conversations," said Dave Lutz, managing director of Velvet Chainsaw Consulting, whose firm works with academic conferences. "While many have tried to replicate it with happy hours, birds of a feather conversations, etc., that void still exists."
Lutz added that association conferences will likely adapt by having fewer sessions and shorter days because participants aren't willing to invest more than an hour or two for more than two days.
"Just because it's online, doesn't mean it's not actually happening, even though there's this enormous, diverse intellectual activity going on," Pugh said. "It didn't feel like a normal conference, which is usually a very intense (two or three days) that's exhilarating and exhausting at the same time. Because I was at home, I didn't process that I was at ASA until the third day."
Here are seven tips to get the most out of a virtual conference experience:
Develop a new routine. Attending a virtual conference won't "feel" like a normal conference but it shouldn't feel like the remote work you've been doing. Drive to pick up coffee and doughnuts or attend the virtual sessions from a different environment, even if it's a different room in your house. If it helps, make yourself a badge and lanyard to wear to really put yourself in a conference mindset.
Set an out-of-office message and don't switch to work tasks. Just because you're not physically at a conference, doesn't mean you shouldn't dedicate your complete attention to it. Let coworkers know you are not to be distracted because you're attending a virtual conference, and resist the temptation to check email and toggle back and forth between work tasks. Your work may be one tab click away, but constant switching will drain your cognitive energy. "Immerse yourself in the conference just like you would if you were in person," Kruger said.
Customize your screen name. Platforms like Zoom allow you to change your profile name, and Aebersold recommends changing it to fit your purpose for attending. For example, "John seeking a res life position" if you're attending a career session at NASPA, or "Allison writing a book about social intimacy" at an ASA session. You can add your institution, such as "Justin from Slippery Rock" or use your Twitter handle. Someone might recognize your school and be more willing to introduce themselves or chat with you by mentioning a colleague who works at your school.
Pace yourself. "We're all experiencing Zoom fatigue, so you might not want to go to as many sessions as possible," Kruger said. "Some associations are acknowledging that and are spreading the sessions out over more days so people don't get burnt out." If it's a conference like APA that gives you access for a year, set a regular appointment to watch one session at a specific time, like every Friday at 3 p.m. If you're committing a day or two to a virtual conference, develop a plan and allow for space in between sessions instead of approaching it as an all-you-can-eat buffet. "Look through the materials and make yourself a little schedule of the events you don't want to miss," Aebersold said.
Attend the networking events anyway. Virtual networking events won't be as good as the in-person receptions and happy hours but they're better than nothing at all. Conference organizers are putting tremendous efforts into replicating the networking experience, moderating smaller groups and even doing things like cooking demonstrations (Kruger is already working on his Dan Dan noodles and hollandaise sauce). But they are only effective if people participate, and if conference attendees value networking as much as they say they do, these events should be attended.
Go to conferences outside your discipline. Virtual conferences might be a compromise to enable people to share ideas from other disciplines and functional areas. On an episode of the Thought Feeder podcast, titled "Preaching to the Choir," hosts Joel Goodman and Jon-Stephen Stansel floated the idea of conferences having an exchange student program where admissions counselors can attend sessions from a web design or social media conference, and vice versa. Specific sessions can also be shared with vice presidents so that management can have a better understanding of the labor without having to dedicate multiple days at a conference.
Don't go alone. If you're not able to gather a small group in a conference room on your campus, gather one virtually. Use social media in advance to start conversations and engage with topics to give yourself a sense that you're part of a community. "Build a network of folks who are also going to the conference and use that as an opportunity to share ideas," Kruger said. "Ask questions like, 'What are the implications in this session?' or 'What does this mean for the work that we're doing?' You're not just a sole participant just because you are alone at home."