June 26, 2020
Admissions Offices Get Innovative During Challenging Times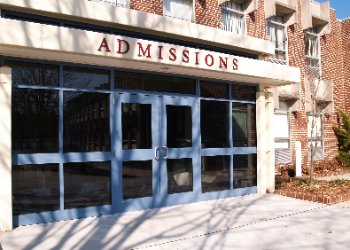 Cynthia Farmer/Shutterstock
Four months ago, most higher education institutions were deep in recruitment and admissions processes for the incoming class of students. The world undoubtedly looks different today, and as a result, enrollment management has become a critical and essential component of long-term planning for institutions facing future uncertainty. Hoping to solidify plans for a fall reopening, colleges and universities are looking to enrollment and registration numbers to gauge the likelihood of in-person instruction, online classes, and
additional budget cuts
before the next academic year. In particular, admissions counselors and enrollment managers are being called upon to be flexible and innovative in their approach to recruiting and retaining new, transfer, and continuing students amid the coronavirus pandemic.
In May 2020, the American Association of Collegiate Registrars and Admissions Officers (AACRAO)
released a survey
among 376 higher education institutions impacted by COVID-19. The survey provided several findings from admissions counselors and enrollment managers. According to the report, nearly half of the institution respondents were concerned about decline in fall registration among new students. This statistic is even more pointed for transfer numbers that have continued to decline for fall since the last survey results in April. Speaking with Brian Troyer, dean of admissions at Marquette University, he expressed understanding about student decisions, and lack thereof, due to this unique time in society. Specifically, he notes that "while most students have made their decision, some still haven't. The decision about where to attend college relies on numerous factors; typically, we talk to families about three types of 'fit': academic, financial, and social/emotional. The impact of COVID-19 on high school seniors' and potential transfer students' experiences has forced them to consider how the colleges they were once considering best 'fit' in light of these new circumstances. It is perfectly reasonable and understandable that for some students, the traditional timeline of selecting a college -- or, in the case of transfers, deciding to move forward with their decision to transfer -- has changed this year."
To that end, some students are looking for different opportunities to extend their timeline and deferring college admissions. The
Gap Year Association
, the primary organization for students seeking immersive opportunities before college, projects an increase in the number of students taking a gap year because of the pandemic. When asked about whether this would be prevalent among incoming students, Brian commented, "While I do believe the number of students taking a gap year will increase, I don't believe the increase will be substantial. The traditional gap year activities may not be as accessible as they traditionally have been. Instead, we are hearing from more students who, despite wanting to enroll at Marquette, have decided to enroll for one or two-semesters at a college or university closer to home. For this reason, we were proud to announce a policy unique for this cohort of seniors, which
guarantees their admission and scholarship for up to one year
. This allows them to begin their academic coursework in order to stay 'on schedule' toward a bachelor's degree, and ultimately allows them to fulfill their dream of earning a degree from Marquette University."
Marquette's new policy is one of many ways institutions are innovating their work and changing traditional ways of providing outreach to potential students. The campus tour, long seen as a primary means of students deciding between admissions offers, has transitioned from in-person to online with institutions providing photos and virtual tours of campus buildings, residence halls, and athletic facilities. This example is one of many that also shows how admissions has maximized collaborations between departments, functional areas, and institutional leaders. Working with students, the university president, and everyone in between, Brian was thankful for the support from his campus community. "It is hard to capture in words how appreciative I am for the manner in which the Marquette community stepped up to help us recruit this year's class. College deans called admitted students; our current students wrote letters, hosted large- and small-group chats; our President sent a video and a letter to all admitted students. It was clear from the outset of the pandemic that everyone in our campus community wanted to do all they could to ensure we could bring in another outstanding class. While I will always be proud to tout the incredible, hard work of our team in undergraduate admissions, it is fair to say that we simply wouldn't have enrolled the class we have without the tremendous support from our campus administration, faculty, staff, and students."
Since the survey, there have been
some institutions
that reported positive admissions numbers despite the challenges. However, much like fall opening plans, some are uncertain what the fall term or incoming class will look like. What is certain from this situation is that institutions can adapt and are rising to the challenge of the times by thinking outside the box and working together to recruit the best students possible. Much like the talented students that enter college every year, institutions are showing their resilience and ability to overcome obstacles to meet the necessary demands of tomorrow's students.