June 23, 2020
The Emergence of Student Success as a Professional Field in Higher Education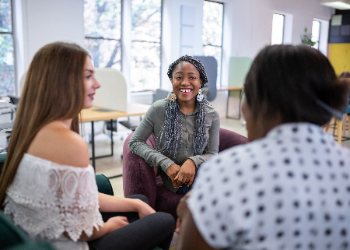 Jono Erasmus/Shutterstock
When I started my career in higher education, "student success" if we used the term at all, was a stand-in for "transfer rate" at community colleges and "graduation rate" at four-year institutions. By the early 2000s increasing access and success was a common combination, though in research and practice the focus was mostly on access, or widening participation to be more inclusive of students underrepresented in higher education. Efforts to increase access met with some success and the
proportion of 18 to 24-year-olds entering postsecondary education increased from 35 to 41 percent from 2000 to 2018
. But it turned out that access was not enough to guarantee positive outcomes once students entered college, so attention shifted to student success.
The most blunt indicator of success remains completion rate, and on that score, there has been an increase -- the first in decades -- such that
43.7 percent of students who began a four-year degree in 2012 completed at the same institution within six years
(compared to 36.1 percent of those who started in 2000) and
32.6 percent of students who began at a two-year institution in 2015 completed an associate's degree within three years
(compared to 30.5 percent of those who started in 2000). The increases are good, but the number of students who do not complete or transfer remains deeply troubling; millions of people in the U.S. started college and did not finish, leaving many with student debt and no degree. Differences across race and sex complicate the picture and point to systemic inequities. College completion is a lagging indicator. That is, it tells the story of student success after anything that can be done to increase it has passed. And it does nothing to indicate outcomes of college other than a credential. It fails to capture learning, growth, and development of individual graduates or equity of opportunity and outcomes in a campus aggregate. There is no question that degree completion is one indicator of student success, but it does not capture students' progress toward a degree, obstacles they overcome to stay in school, or what they learn on the way.
As higher education began to focus on student success it became clear that existing organizational silos roughly dividing campus into "academic versus student affairs" could not meet the challenge on their own. An area of work sometimes called student success services began to take shape. Student success is not a profession per se, but several professional areas contribute to it. Academic advising, and pro-active or intrusive advising in particular, is central to student success. Financial aid is a part. Identity-conscious student support (e.g., groups for Black men, Latina women, or first-generation students) plays a role. Promoting physical and mental wellbeing and providing basic needs (e.g., food, housing, childcare) are a part. Academic support through tutoring, mentoring, and research opportunities is part of an overall student success strategy. These component parts -- each of which has been shown to contribute to student success -- have identifiable professionals (e.g., academic advisors, financial aid officers, multicultural educators, psychological counselors, faculty) who contribute to student learning and development, in addition to persistence and graduation.
I have also observed the evolution of what I call "student success professionals," with a consolidation of roles and emergence of career pathways doing "student success work." Some of the professionals already named see themselves, and rightly so, as contributing to student success. Indeed, it is by now cliche to say that "student success is everyone's job" at my university. But an identifiable set of jobs, with pathways to and through a career, stands alongside these other professionals.
For example, there are entry-level positions in student success coaching. These professionals typically work directly with students to help them navigate campus resources and access support for academic, career, and personal success. Some longstanding student support programs, such as TRiO, have employed student success staff performing the roles of success coach, and this model has moved into the center of institutional efforts. Student success coaches work at public and private non-profit two-year and four-year institutions. Some for-profit institutions also hire student success coaches, though in some cases the institutional motivation for recruiting and retaining students may align more with their business model than with values related to the best interests of individual students.
There are also entry- to mid-level jobs coordinating the proliferation of student success programs focused on academic areas or student characteristics. Whether related to students' geographic origins, like my university's
Detroit M.A.D.E. (Mastering Academics Demonstrating Excellence) Scholars Program
, a particular academic area, like the STEM-focused
Meyerhoff Program at the University of Maryland-Baltimore County
, or a student characteristic, like the
Broncos First program at Western Michigan University
for first-generation college students, these programs bring together multiple student success strategies. Program coordinators may oversee multiple functions such as coaching, peer mentoring, and tutoring.
Mid-level student success professionals, such as a director or assistant dean, may oversee student success coaches and the coordinators of focused success programs. Depending on the size and organization of the institution, they may also provide leadership for areas like academic advising and career planning.
At the senior level, I'm beginning to see more titles like
associate provost for student success
or
senior vice president for student success
. Sometimes coming as career administrators, sometimes coming as career faculty who moved into academic administration, these leaders represent student success at the provost's or president's cabinet level and oversee portfolios that may span traditional academic affairs and student affairs areas, as well as new units named as student success services.
It's clear that there are jobs at all levels for people who want to contribute to college student success in all of its definitions. As institutions re-organize and sometimes consolidate efforts to support student success, some are explicitly naming units or divisions as student success functions, while others continue to operate on a distributed model. In either case, there are professionals at all levels doing this work. From entry-level to the president's cabinet, professionals dedicated to supporting college student success can identify a career path doing the meaningful, satisfying, hard work that will help higher education make good on its promise of converting access and opportunity to success.
What does student success look like at your institution? Leave a comment below.