May 22, 2020
Reimagining Hands-on Learning in a Hands-off Time: Co-ops, Labs, and Practicums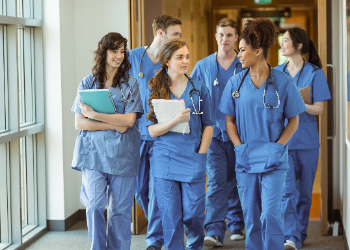 ESB Professional/Shutterstock
What happens to the learning environment when the intense hands-on programming of co-ops and labs shifts overnight to remote learning platforms? Colleges and universities everywhere are finding that, among the many challenges posed by the rapid move to online learning caused by the COVID-19 pandemic, some parts of the curricula are affected more profoundly than others. Chief among these are programs that feature co-ops and internships, lab and studio courses, and practicums. I spoke with educators at several schools who are working hard to develop innovative solutions to this unprecedented disruption in learning and teaching.
Co-ops and Internships
Three institutions with extensive, mandatory co-op programs are Drexel University in Philadelphia, the University of Cincinnati, and Wentworth Institute of Technology in Boston. All three schools are managing current placements and waiting to see how the fall semester evolves. So far, the majority of students at these institutions are planning to continue in co-op positions, although finding placements is harder than in the past. Some of the schools' long-time co-op partners have withdrawn placements because of the hard-hit U.S. economy, but many more industrial partners are collaborating by adjusting work hours, co-op start dates, and finding ways for the students to telework rather than report in person.
Alternative experiences are being used at all three institutions to meet learning outcomes, for example, by creating online technical courses for upskilling and industry certifications. Rich Hansen, interim provost at Wentworth, reported that the Institute has created the Future Lab, an innovation opportunity to include projects related to the COVID-19 pandemic. It has also created an engineering project management opportunity that can be applied to COVID-19 with the Ventilator Project. It is also exploring an online summer camp in entrepreneurship for high school students to be run by college students in place of a co-op. At Drexel, Ian Sladen, vice president of cooperative education and career development, noted that students are working on projects that benefit the city of Philadelphia as it works through the COVID-19 pandemic. The University of Cincinnati, according to Gigi Escoe, vice provost for undergraduate studies and dean of the division of experience-based learning and career education, explained that the University is using its Experiential Explorations program and a department of labor grant to help students with apprenticeships and digital upskilling.
On the plus side, Hansen, Sladen, and Escoe all praised their faculties for stepping up to meet the challenge with creativity and resilience.
Labs and Studios
Courses that require labs have also made major adjustments. In some cases, curricula have been adjusted to reorder the learning outcomes and front-load the didactic content. Simulations are being used in place of actual hands-on experimentation and faculty members, for example at Wentworth, have developed some labs using "kitchen chemistry." At Bowdoin College in Maine, physics lab instructor Paul Howell has videotaped experiments to share, and found that students are sometimes able to obtain data directly from the videos, for example, by timing phenomena as they occur. Still, Howell acknowledged that simulations and videos can't truly replace the "lab sense" and personal engagement with the process of experimental design that occurs when working in a lab. He also noted that it is often difficult to design online experiences that promote critical thinking skills.
In lieu of students obtaining data by running their own experiments, some lab instructors send shared data sets to students for data reduction and analyses. Lab reports are submitted electronically.
Studio-based courses, such as industrial design and architecture programs, have a separate set of remote learning challenges to overcome. Industrial design curricula, for example, require students to routinely design and build 3-D models or prototypes. Chuck Hotchkiss, Wentworth's dean of architecture, design, and construction management, noted that they are exploring the use of 3-D printing technology to facilitate teaching and learning in these classes. The school is combining its 3-D printing capabilities into a single location, staffed by a minimal number of on-campus technicians. Students submit their designs to a 3-D lab electronically, where they are printed and shipped back for review and refinements. Architecture programs at many schools are successfully using Zoom meetings in place of the intense, collaborative in-person charrettes that are a hallmark of these curricula, although direct interpersonal interactions may not be quite as compelling.
Practicums
Disciplines that require practicums, such as nursing and social work, have their own unique challenges. The nursing program at Carlow University in Pittsburgh is one such example. Carlow has restructured its course work to frontload didactic components and plans to stress hands-on components when students return to campus. With support from Carlow's center for digital learning and innovation, the nursing faculty increased its use of case studies and created simulations for students who are unable to participate hands-on. Some students with jobs in healthcare have been able to continue their hands-on learning at work.
Lynn George, Carlow's dean of the college of health and wellness, says that the nursing program is also anticipating a host of issues on the horizon. For example, the physical skills required of nursing and other students tend to degrade over time when not used regularly, which means students' skills will need to be assessed formatively when they return to campus. The pandemic also has caused long delays in scheduling licensing exams such as the national council licensure examination (NCLEX). It is known that a greater time gap before taking the exam, can negatively impact NCLEX. Since NCLEX testing delays are now on the order of 5 months, the impact on pass rates may be negative, affecting both students and schools. On the positive side, George believes that the current emphasis on health and safety may lead to improved public health as the general population becomes more invested in better health practices.
Students, faculty, corporations, and other educational partners have all stepped up to address the challenges presented by the social distancing required to deal with the COVID-19 pandemic. Some of the innovative steps taken with co-ops, labs, and practicums may well remain after we return to "normal." If there is a silver lining to be had during this harrowing time, it may be in the innovative and positive improvements to our ways of learning and teaching.