May 21, 2020
Supporting Student-Athletes in the COVID-19 Fallout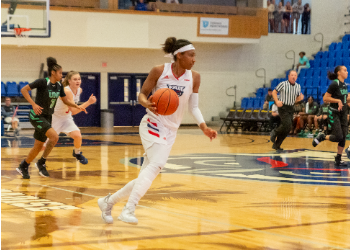 YES Market Media/Shutterstock
In higher education, spring is filled with excitement, happy finales, and promising beginnings. For college athletes, this is a special time when sports seasons end and their athletic efforts throughout college come to a ceremonious close. As the coronavirus outbreak continues to ravage communities and economies across the world, student-athletes are left with an admittedly unsatisfying end to their athletic careers in one way or another and are attempting to find a resolution from the NCAA and the higher education institutions they have played for the past four years.
Shortly after COVID-19 was declared a global pandemic, the NCAA closely monitored events by developing an advisory panel and limiting attendance at its winter and spring sports games to adhere to emerging safety guidelines by the CDC. However, on Mar. 12, the NCAA released a
statement
effectively cancelling all winter and spring championship events. While brief, the NCAA asserts in the statement, "This decision is based on the evolving COVID-19 public health threat, our ability to ensure the events do not contribute to spread of the pandemic, and the impracticality of hosting such events at any time during this academic year given ongoing decisions by other entities." While seeking to ensure the safety and wellbeing of student-athletes and all associated sports personnel, this decision impacted over
490,000 student-athletes
playing winter and spring sports including men's and women's basketball, lacrosse, volleyball, and ice hockey.
Notably, this has a definite effect on student-athletes, particularly those with aspirations of finishing their respective season on a high note with a championship or continuing their career in a professional sports league thereafter. As such, following their cancellation announcement, the NCAA agreed to
extend scholarship eligibility
for one year, which is of significance to student-athletes that would have seen their five-year eligibility expire at the end of this spring 2020 season. In addition to this ruling, the NCAA president
plans to release $225 million
to member schools in support of student-athletes with financial need; this comes after the NCAA reported a loss of $375 million from the cancellation of spring sporting events including March Madness.
However, based on pointed words from Ramogi Huma, executive director of the National College Players Association (NCPA), it seems that aid is not guaranteed to the hands of the college athletes who need it most. In his
statement on behalf of NCPA
, he states, "Colleges facing financial losses due to the cancellations of games will have pressure to reduce athletic scholarships and any medical coverage they may be providing to their athletes. Athletic directors' public statements about the prospect of cancelling the upcoming football season and all other fall sports underscore this concern. Players whose scholarships and medical coverage are reduced or eliminated still face NCAA eligibility punishments for transferring to a college that would provide them a better opportunity. Many college athletes subject to the NCAA's economically harmful restrictions are from low-income households."
As of now, there have been few public statements from institutions asserting financial support for student-athletes and each school varies in terms of its adherence to academic requirements outlined by the NCAA. Despite the lack of response from member schools, the NCAA Student Athlete Committee penned an open letter to fellow college athletes: "As collegiate athletes, we have all persevered through challenges, injury and heartbreak, and we have come out even stronger on the other side. Now is the time to tap into the grit we have all developed through our athletics experience and to realize our identity is greater than our sport. Sports are what we do, but they are not who we are."
At a time when students and athletes alike have questions about the future of their sporting career, there are few answers. This comes on the heels of extensive lobbying efforts by the NCPA and student coalition groups to advocate for college athletes to receive compensation for sponsorship deals, branding, and marketing rights beyond what is currently offered by higher education institutions. Fortunately, some student-athletes are finding resiliency in this time. When asked about this time of uncertainty during the
Social Series
dialogue led by the NCAA, Caroline Lee, former Southeastern Louisiana soccer player, pre-med student and student-athlete representative on the NCAA COVID-19 Advisory Panel, said "I think there is a lot of disappointment among student-athletes with seasons being cut short and championships being put on hold which of course is very devastating but I think that at the same time so many of our student-athletes have been so resilient and I'm proud of the positivity that they've maintained and all that they're doing now off the court and off the field to prepare for when they come back...as I mentioned before, as student-athletes we are used to so much structure and having everything organized and so now we're kind of in a season of unknown and uncertainty."
Still, there is much to be said about how student-athletes will cope with the social, academic, and financial stress that lies ahead. While this situation will undoubtedly impact some student-athletes with financial hardships and delays in their academic and professional careers, there are others utilizing this time to stay focused, motivated, and concentrate on being the best student and college athlete they can be.