May 18, 2020
Five Lessons from Hires Made Without a Campus Interview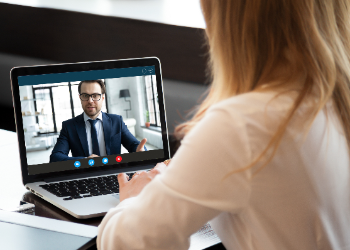 fizkes/Shutterstock
The coronavirus pandemic has forced colleges and universities to hire remotely without conducting campus interviews. This could cause less certainty from both sides of the table -- or, to be more accurate, the computer screen.
Recent examples of successful remote matchmaking are Concord University
hiring Edward Wright Huffstetler
as provost and vice president for academic affairs, and
SUNY Geneseo appointing Michael Taberski
vice president for student and campus life. Neither candidate set foot on campus prior to his hiring. Given the timing of Concord's interviews, Huffstetler was the only finalist to interview completely off-campus and he still got the job.
"We lost some of the richness that we would have had face-to-face, (such as) having the opportunity to have meals (together)," said Dan Fitzpatrick, Concord vice president of operations and COO, who chaired the university provost search. "But, spending a day with the candidate on remote interviews with the occasional technical difficulty, it was able to work out well for us. We may have to figure out how to make that the norm, at least for a while longer."
For now, the campus interview is replaced by a gauntlet of videoconferences with the hiring committee, students, faculty, and other stakeholder groups. Gone is the opportunity that many candidates need to let their physical presence or charisma influence hiring decisions, especially for roles that rely heavily on how well candidates relate to people on campus.
If this is the new norm, what can other candidates learn from these examples of remote hiring?
Lesson One: Be Welcoming
In some ways, the "campus" is coming to the candidate's space, and not the other way around.
"People (attending the interviews) said it was really nice to be able to see someone in their home environment," said robbie routenberg (lower case intentional), chief diversity officer at Geneseo and search committee chair. "It's hard to feel connected to someone in a virtual environment when you have never met them before. It takes an exertion of warmth and humanness that needs to be able to be translated across a computer."
You shouldn't exert yourself to create a home environment by using your cat as a prop or setting up a distracting background, but be yourself and welcome people into your space. However, keep in mind that people are getting a much closer view of you than they would in an auditorium or conference room.
"I knew to be conscious of my facial expressions and movements, knowing that the image projected onto a large screen can be quite unforgiving," Huffstetler said.
"(Huffstetler's) manner and demeanor were very warm and welcoming," Fitzpatrick said. "It was just like he invited us into his home."
Lesson Two: Be Resilient
Not all interviews will require candidates to sit through eight hours of Zoom meetings in 45-60 minute increments, but being confined to a computer screen is a barrier and the lack of variance to the physical environments can be draining.
"You get to see how resilient someone is," Fitzpatrick said.
"When you're at an interview, you have to be 'on' all day," Taberski said. "The prospect of being on Zoom all day to do these interviews was a little daunting, even more so than when you have to be there in person."
Taberski took a walk every time he had a 10-minute break to decompress.
"That's something I had to so I wouldn't turn into a zombie or lose my energy," Taberski said. "I was just extra conscious of making sure I was lively and being my normal self as much as possible. I also tried not to look at the screen and instead I looked at the camera so I wouldn't be distracted by myself or the other people, (almost to the point) where I would cover my screen. I think that went a long way."
Lesson Three: Use Labels
What wasn't distracting and was instead helpful were the names that appear below the thumbnail displays of attendees and in chat boxes in Zoom meetings. Taberski made sure to say those names aloud.
"I would say, 'Thank you, Emily,' or 'Thank you, John, for that question,'" Taberski said. "If I was on stage, I would be looking right at the person and they would know I'm giving my attention specifically to them. They know I'm looking at a screen with like 45 people on it, so (this is) how can I let them know I'm connecting with them."
Taberski also did something else he wouldn't do in person with labels. He spread out notes, similar to a cue-card method shared in a
previous HigherEdJobs article
, to remind him to bring up a specific experience or to mention a tie-in to Geneseo's strategic plan.
"I had those displayed around my monitor so in a moment of nervousness I could use them," Taberski said. "In an in-person interview, you might have your notebook with you, but you can't glance at it the same way."
Lesson Four: Do Extra Research
Remote interviews are more efficient and deliberate. Conversations are less intimate and postures and hand gestures are less visible. People are transmitting fewer messages, both verbally and nonverbally. This puts a greater emphasis on candidates to respond with substance and examples taken from their research of the institution.
"(Huffstetler) studied the university and he understood where we were and was able to describe very clearly how his particular skill set will be an asset to us," Fitzpatrick said. "We were able to be very candid with one another and provide a realistic job preview and letting each other know exactly what to expect and the challenges and opportunities he'd be facing here."
Your research can be exhibited through your questions as well.
"I love to hear questions that demonstrate that (the candidate) knows the context," routenberg said, "questions that have that (context) embedded in, so it's clear they've done their research and they're asking about an issue relevant to the campus."
Lesson Five: Don't Judge an Empty Campus
In addition to not interviewing on campus, Huffstetler and Taberski didn't visit campus either. They both were familiar with the campuses, having previously lived in the regions, but neither had visited the towns in at least a decade.
"A colleague of mine said, 'I can't believe you're accepting a job, especially a VP-level job, having not stepped on the campus,'" Taberski said. "But then it occurred to me: What would stop me from accepting a job at a campus from just being there? What would be so bad, where I would say, 'That's the reason I can't take this job'?"
Sure, they did their research (Huffstetler credits Google Earth) and Taberski said other jobs, like in residence life, would require a campus visit. However, the most important details they needed to learn were from conversations and not examining the physical environment.
"While location and facilities are important, remember that it's the people you'll be working with that matter the most when it comes to a new job," Huffstetler said. "Even though your meetings with them may be virtual, you can still get an accurate read on what drives them -- their commitments, their passions, their goals for the future. You can also get a surprisingly good idea of their personalities as well -- do they have a sense of humor, do they seem to genuinely care for the institution and for each other?"
"The key was digging into the culture, because that's what people miss," Taberski said. "You don't get a sense of the culture from walking around; you get it from talking to people."
That's not to say you should avoid driving to a campus for a look around, but just realize what matters most and don't make any emotional decisions based on what you see.
Both Concord and Geneseo provided the candidates video tours, and it's likely that all campuses will begin relying on similar multimedia for student and employee recruitment in the months ahead.
It's important that candidates reciprocate with a video interview that presents themselves as welcoming, engaging, informative, and authentic.