March 20, 2020
Adjusting to Remote Learning: The Opportunities and Challenges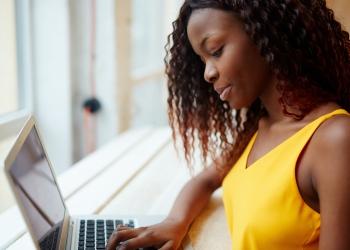 Pressmaster/Shutterstock
The severity of the Coronavirus (COVID-19) is changing daily life for many Americans. For higher education, in addition to the closure of residence halls and campus buildings, classes and administrative operations have moved to online platforms. This is a notable change from college culture in the United States that prioritizes in-person engagement and communication; while information technology (IT) is not new to higher education, the spread of COVID-19 is forcing faculty, students, and administrators to consider the benefits and challenges of transitioning to remote learning environments.
Access to Technology
U.S. higher education institutions have spent
millions of dollars
building technology infrastructures on campuses that include universal Wi-Fi coverage and ready access to computers, laptops, and other electronics. Off-campus, it is a different reality for many students; NBC news reported that in 2019, nearly 3 million students had no internet access at home. Whereas college students benefit from this accessibility while on campus, the move to remote learning and cancellation of all in-person classes now places the responsibility of technology access on students, some of whom may be unable to secure affordable or consistent access to the internet. In a recent study and
survey of 748 students
at a Midwestern university, researchers found that,
"Nearly all of the students had laptops and smartphones, but roughly 20 percent had problems maintaining access to effective technology. They had to type papers on old laptops or tablets that didn't work consistently...They lived in off-campus apartments without reliable internet access. They ran out of cell phone data and couldn't afford to add minutes. The difficulties were more common for students from low-income families and students of color. Students from affluent families faced problems too, but they were more likely to experience them as a minor bump in the road."
From this perspective, the transition to remote learning, while seamless for some students, is not equal across the board. Consequently, this could lead to delays in homework assignments or difficulties finding reliable internet or technology to submit coursework. Ultimately, how students adjust will largely depend on their ability to access information technology at the same level as they did on campus.
Competency Among Faculty and Staff
Despite issues in access, emerging research on technology use shows students want to readily
embrace a technological shift
in higher education and want more incorporation within the classroom. Sally Shankland, president of McGraw-Hill's Higher Education group says:
"While college enrollment has climbed in recent decades, graduation rates remain low, and educators across the country continue to work to identify new ways to increase student success...High-quality digital learning technology has proven to be one of the most effective tools for driving success in higher education, and it's extremely encouraging to see that students are recognizing those benefits."
However, the case is not the same for faculty and staff, many of whom have a different experience of higher education, when technology was not a major component of campus life. According to a 2018 survey of
faculty attitudes on technology
, less than half of the
2,129 faculty surveyed
had taught an online course before. A part of the reason for this statistic may come from a traditional belief that digital tools may negatively impact teaching quality and be less effective when it comes to student engagement. Increases in use and favorability towards technology were reported with
integrated training for faculty and support
from campus IT services. Now with the sudden shift to online platforms for student learning, faculty and staff must quickly develop the competency to provide quality instruction and class engagement that rivals in-person courses.
Measuring and Assessing Learning Outcomes
While faculty views on technology are becoming more favorable, there is credible reason to consider the impact online platforms and increased reliance on technology may have on learning outcomes and student academic success.
From a 2018 study
of 118 students at Rutgers University:
"The researchers found that the average daily quiz results showed no evidence of harmful effects from the use of technology. However, the average results of the larger tests and final exam told a different story. They showed that all the students performed poorly on questions covering material taught on days when they were permitted to use technology in the classroom."
The researchers, however, are clear that while this sample is not necessarily generalizable to all students, it does provide a perspective on the
prevalence of technology among college students
, particularly in in-person classroom environments. With so much going on the world, and the new reality COVID-19 has created for higher education, remote learning is sure to be a test for college students that may become distracted in an exclusive, digital environment and faculty who must measure learning outcomes and student academic performance.
Conclusion
In a short time, COVID-19 has created new circumstances and expectations for how we learn and engage in higher education. The transition to remote learning, as a response to the need to mitigate the spread of COVID-19, undoubtedly will create challenges institutions must bear in the coming months. However, there is also an opportunity to leverage the possibilities this new learning environment can bring to higher education, shaping how college students, faculty, and staff adapt and transform the nature of postsecondary education in the future.