February 20, 2020
Crash Course for Writing Your Resume or CV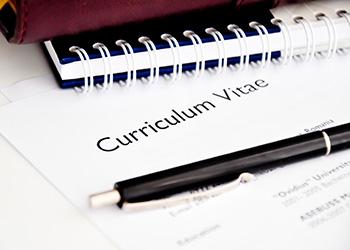 Eviart/Shutterstock
If you're writing a resume or CV from scratch, starting a job search in higher education, or revamping your application materials, you need a basic framework to get started. As you build your document, keep in mind what your audience -- a very specific search committee -- wants to see and in a manner that optimizes your chances of getting invited to campus for an interview.
Before we get started with a crash course, let's first address the terminology. Many will argue the differences between a resume and a CV, such as a CV having a more comprehensive scope and being less purpose-driven, but generally speaking a CV is a term used for an academic resume.
CV stands for curriculum vitae, which is Latin for "course of life." Vitae is pronounced VEE-tye, although it's often mispronounced VEE-tay or VAHY-tee. Vitae is plural for vita, but when it's modifying the singular curriculum, "curriculum vitae" is the correct usage for a single document. CV or vita is common shorthand for correspondence, but check with academics in your field because in some disciplines, like the humanities, it's proper form for "Curriculum vitae" to be printed on your CV below your name.
The remainder of the advice in this article will be in headers and bullet points to appeal to skimmers, because your resume/CV is likely to be read the same way.
LAYOUT AND FONTS
Use a consistent, easy-to-read font throughout your resume/CV, such as Times New Roman, Calibri, Arial, or Helvetica.
Don't try to get fancy with your layout with lines, text boxes or graphical elements, unless you're applying for a job where you'll be exhibiting or instructing design. Leave it to the trained professionals and keep the layout simple.
Make sure your name is at the top of the document with no other information on the same line and in a font size that's larger than any other header used for the remainder of the document.
SECTIONS
Below your name, list your email address, phone number, and, if available, a link to your online portfolio or website. Mailing addresses are optional.
Don't bother with an objective statement near the top of your resume/CV, but consider a few bullet points summarizing your career, key skills, or characteristics as it relates to the job.
For most academic jobs, place education before your work experience on your CV. For staff and administrative positions, work experience should come before education.
Organize the sections of your resume/CV with equal spacing between them and common headers such as: Education, Work Experience, Research Experience, Publications, Teaching Experience, Grants & Awards, Memberships, Honors, and Technical Skills.
CHRONOLOGY
List sections of your work experience in reverse chronological order, but manipulate the order to get your most relevant experience near the top. For example, you can start with a section titled "Higher Education Experience" if your most recent job was in another industry, or "Teaching Experience" ahead of "Research Experience" if you're applying for a teaching faculty position.
Justify the dates of employment and education to the right of the page so that it is in a predictable place and easy for the reader to follow.
Use the margin tab setting instead of typing the tab button or space bar repeatedly.
Month and year will do, but keep it consistent for each entry and don't put them in parentheses.
LENGTH
Your resume/CV should be as long as a piece of string -- that is, however long it takes.
However, don't feel obligated to list every positive thing on your resume/CV because employers tend to average your best experiences and anything not as impressive will pull down your average.
Typically, resumes are one page for professionals with fewer than 10 years' experience and two pages for those with more than a decade of professional experience, especially if they've had several jobs.
CVs are expected to be longer, 8-15 pages on the high end, because they go into greater detail with research, service, conferences, grants, and fellowships.
Always ask yourself if it's possible to say more with less.
WORDING
For your work experience, list the name of your employer (preferably in bold) on top of your job title (preferably in italics).
Begin each bullet point with either a present-tense verb for your current job or a past-tense verb for previous jobs.
Use strong verbs but avoid sounding pretentious; don't write "leveraged" or "utilized" when "used" will do.
Instead of just describing what you did, explain why you did certain tasks, who benefited, and provide outcomes and quantifiable evidence of your work.
Don't just list awards and organizations; explain what they are and why they are important.
SAVING
If you're submitting your resume/CV through an applicant tracking system and are given an option, save the document as a Microsoft Word file, or ".docx" file, because keywords might not be detected as easily from a PDF.
Otherwise, if you are simply uploading your document to a website or emailing it, use a PDF so the file can't be inadvertently changed by others and the formatting will appear the same for the recipient.
Your resume/CV should be saved by date or institution in the file name because there's no such thing as a general resume/CV, unless you're posting it to your LinkedIn profile or website.
BOTTOM LINE
You should always rework your resume/CV to fit the institution and the job description for which you are applying.