February 7, 2020
What's Changed and What's Next for Job Seekers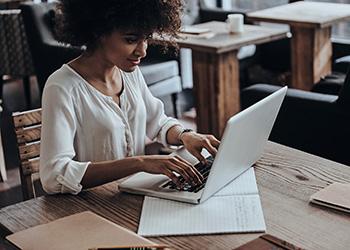 G-Stock Studio/Shutterstock
As we enter a new decade, now is a good time to look back on what's changed for job seekers since 2010 and what changes they can expect by 2030.
That's not to say this temporal landmark is needed to remind higher education professionals what it's like to search for a job. Only a third of people ages 25 and older have worked for their current employer for at least 10 years, according to a recent
Bureau of Labor Statistics
report, and specifically for educational services employees the median tenure is 4.2 years.
What's Changed?
The statistics above have barely changed in the last decade, but what has changed is how people conduct their job search. They go to the same place they use to inquire about cooking recipes and movie listings.
"Most people's job search now will start on Google," said Jeff Dickey-Chasins, who runs a consulting business for job boards called the
JobBoardDoctor
and has helped more than 450 companies develop job boards and HR-related websites.
In June 2017, Google launched a new search feature called Google For Jobs, which is activated with a regular Google search like "English professor jobs." People still used the popular search engine 10 years ago to discover job postings, but the process is now more tailored with a blue box and customized results that can be filtered, instead of links formatted like any other Google search result. Also, a lot of the top results are not just links to aggregators like Monster and Indeed but to industry-specific career websites like HigherEdJobs and direct links to job postings on company websites based on the user's location.
"Google For Jobs basically takes you into a job search environment that looks similar to what you're used to getting when you go on a job board," said Dickey-Chasins, noting that websites like HigherEdJobs gained an advantage for higher placement in Google search results.
So who is better off now than they were 10 years ago, employers or job seekers?
"They both are," Dickey-Chasins said. "For employers, they have more ways of promoting their open positions, accessing talent, and assessing applicants. For job seekers, there's a higher percentage of jobs that are available to discover online, and it's easier to discover those jobs. Ten years ago, that was not necessarily the case."
For example, annual job postings on HigherEdJobs increased by 220% since 2010 to more than 256,000 last year.
Another big change for job seekers, according to Dickey-Chasins, is the diminished importance of the resume or CV -- at least its composition -- thanks to applicant tracking systems that parse the information into databases that employers can sort and analyze.
"Resumes are still important, but things that people used to stress over, in terms of formatting, are less important because resumes are fed into applicant tracking systems," Dickey-Chasins said. "It's still important to have a good-looking, well-organized resume but it's more important to have one that has the right content in it."
What's Next?
Employers automating the process to read resumes is only the beginning. The next step is having artificial intelligence collect audio and visual data as you answer screening questions. By 2030 you'll likely be interviewed online by a robot avatar.
Employers are now using video interviewing software, developed by companies like HireVue, to screen candidates for their word choice, tone, facial expressions and other indicators of personality. Companies are developing, or at least attempting, ways to quantify the soft skills in the screening process. Developers claim this will remove human bias from the screening process, but algorithmic biases could persist. A
2018 episode of Moving Upstream
, with The Wall Street Journal's Jason Bellini, explains the technology and addresses the concerns.
Another change will be Generation Z entering the workforce. Corey Seemiller, who is one of the leading authors, researchers, and speakers about Generation Z, identified many traits in her
studies of people born between 1995-2010
. Among traits related to career outlook are loyalty and wanting to make a difference, but a willingness to freelance could affect job seekers competing with them for positions and employers adapting to their preferences to attract and retain the best talent.
"Generation Z is coming of age in a freelance economy," said Seemiller, an associate professor of leadership studies in education at Wright State University. "They feel like they can go in and out of this freelance economy. They see their parents doing this to earn extra money or for their regular jobs, and they'll say to themselves, 'I don't have to work for another person or another organization; I'll work for myself.'
"It's not necessarily a preference, but it's an option that never really existed in this way, and if they want to supplement their income or (freelance) full-time, that's certainly something that many of them are open to."
The growth of the freelance or "gig" economy is not new, and higher education has been tremendously affected by a shift toward the hiring of adjunct faculty that
started nearly 40 years ago
and now about 75% of faculty are off the tenure track. But triggered by the Great Recession, the share of U.S. workers who are freelancing grew from
10.1% to 15.8% from 2005-15
, and the number of self-employed individuals jumped more than 19% during that span.
Seemiller acknowledged that younger employees typically adapt to the culture and norms established by organizations, but higher education could be more open than other industries to try something different. That's because colleges and universities have been closely engaged with Generation Z, preparing it for the workforce, and the industry as a whole could be approaching a crossroads of relevancy as it looks to recruit students and employees alike.
"Higher education is going to have to do something potentially different," Seemiller said. "The biggest issue is going to be just the sheer workload. The idea of exempt employees working around the clock is going to be a tough sell for younger folks. It's not necessarily about the pay for (Gen Z), but it will be about this idea of work/life balance."
More flexible work schedules,
low-residency positions
, and the loosening of policy that limit staff from working side gigs, such as the conflict of commitment clauses that many schools have, are all possible changes in the coming decade. A recent
Gallup poll showed that 54%
of workers would leave their current job for one that offers flexible work time and the working remotely three to four days per week increases employee engagement.
"There are a lot of people (freelancing) in addition to their full-time jobs, so if higher ed has to just basically say, 'Nope, nobody can do that,' you're constricting (employees) and their creativity; I think Gen Z is going to see right through that," Seemiller said. "(By adding new duties while cutting budgets) that's just a stressful way of life, and that's what higher education inherently (keeps moving toward) and so I think that these young people are going to look at a lot more options."
What's Important for Job Seekers?
Based on what's changed and what's next, there are two areas where job seekers can focus to anticipate change and find success: relationships and storytelling.
Relationships are how you distinguish yourself among larger applicant pools, before employers even post a job. Relationships are how you add value compared to people who prefer to work more efficiently off-campus, or to institutions who might consider outsourcing or cutting staff. Also, job seekers who have experience as freelancers likely have stronger networks or else they wouldn't have enough clients to survive. Relationships often make a difference.
According to Seemiller, Generation Z sees relationships as being important, but interestingly they see no difference between in-person and digital communication when it comes to keeping connections alive and meaningful. However, that belief is not shared by older generations and there's also a body of research that lack of face-to-face social contact negatively affects wellbeing.
Storytelling is also how you become more human. Appeals to emotion have a stronger influence on people than logic, or based on trends, data parsed from resumes/CVs and video interviews. Yes, metrics are important to decision makers, but humans respond better to good stories.
Those who master human interaction through relationships and storytelling -- in an interview room, classroom, boardroom, and, yes, even online -- will prevail as the world becomes more homogenized by technology.