January 6, 2020
Challenges for International Students: Trends in Enrollment, Retention, and Policy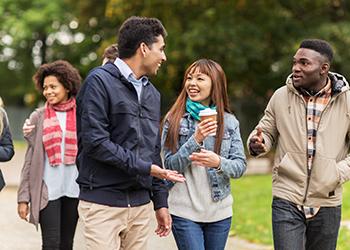 Syda Productions/Shutterstock
Since the 1950s, international students have brought significant contributions to U.S. higher education institutions. Scattered across colleges and universities in all 50 states, some of which are the most selective in the country, the international student population has
dramatically risen over time
. Thus, the production of knowledge and exchange of diverse cultures and experiences continue to enrich the campus environment. However, as the political climate has shifted among countries that once welcomed international students with open arms, enrollment is in decline. According to the
2019 Open Doors Report on International Education Exchange
, enrollment among international students entering U.S. higher education institutions decreased by approximately 3.7 percent between undergraduate and graduate programs. The effects of this decline are felt across institutions, including Harvard University which recently accepted
the most diverse
incoming freshman class in 2019. There are many reasons for the alarm of these changes, and all should be of concern to campus administrators and higher education leaders seeking to maintain a diverse and global student body.
Visa Requirements
Seemingly, the issue of deepest concern is the ability for international students to enter and remain in the United States for the duration of their degree program. The vast majority of students enter the country on an F-1 or J-1 visa status which
authorizes
extended stay for educational purposes. However, the Trump administration and members of the current government have
increased restrictions
on F-1 visas, prompting a delay on the application process for many international students hoping to study in the U.S. Furthermore, the delay has created a
domino effect
on students' ability to submit admissions applications on time, maintain F-1 visa status, or even return to the U.S. to complete their degree program. The biggest declines in visa applications have come from Mexico, Canada, and China, notably where political tensions exist between the U.S. and the aforementioned countries. Inevitably, this delay causes otherwise qualified students to attend other universities. Moreover, it has an impact on enrollment management and admission numbers, particularly for institutions where recruitment of international students is a high priority.
Student Diversity
The decrease in enrollment of international students creates a ripple effect in other areas of campus life. Markedly, higher education institutions have become a central site where one can expect access to a diverse community of perspectives, identities, and experiences among the student body. In an
interview
for Insight Into Diversity, Martyn J. Miller, Ph.D., assistant vice president for International Programs in the Office of International Affairs at Temple University, said, "the real value of students from other countries is the diversity of thought, culture, and innovation they bring to campus." Like any other student coming into a new environment, international students bring a unique perspective to campus and should be met with support via intentional programs, services, and opportunities that focus on different cultural experiences.
Talent Recruitment
The other factor to consider in current enrollment issues for international students is recruitment and retention of talent. Markedly the social and economic benefits international students provide to higher education in many cases spillover into the U.S. workforce, particularly in STEM.
From 2004 to 2016
, there were approximately 172,000 approvals granted for the Optional Practical Training (OPT) program, the main vehicle international students utilize to remain in the U.S. after graduation and obtain work experience in their chosen career field. In this case, it is not just international students that benefit; both American workers and the U.S. as a whole are benefiting from a $431 million economic boost from students that choose to stay in the U.S. and enter the workforce. However, no matter their talent, international students are still subject to visa requirements, including the H-1B visas companies employ to recruit and hire highly skilled workers from abroad. Without authorization via H-1B or OPT approval, U.S. higher education institutions can lose out on the significant contributions of a diverse and global workforce.
The passion and diversity international students bring to higher education have changed colleges and universities for the better. As Marie Royce, assistant secretary of state for Educational and Cultural Affairs,
affirmatively said
, "International students studying alongside Americans are a tremendous asset to the United States. We need to develop leaders in all fields who can take on our toughest challenges. We need people who can find solutions that keep us secure and make us more prosperous. We want to send a message that international education makes us stronger as a country." As long as social and political policies remain contentious issues in society, campus administrators and professionals will have to help international students overcome the challenges of visa status and address the impact that decreased international enrollment will have on the diversity of experiences and global talent in higher education.