December 17, 2019
The Motherhood Equation in Higher Education: Benefits, Challenges, and Opportunities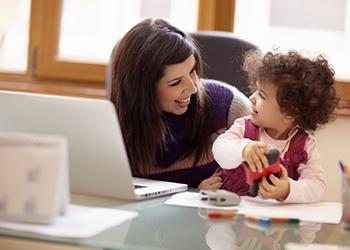 Diego Cervo/Shutterstock
Scholar moms, leader moms, staff moms, student moms, married moms, single moms, veteran moms and every other mom imaginable are an increasing but largely ignored demographic on college campuses. As a woman leader in higher education who also carries the title of mom; mother to a college-educated professional millennial woman and two Gen Z boys, I have lived the college mom experience as an undergraduate student, graduate assistant, doctoral fellow, entry-level administrator, mid-level manager, and now senior executive. Throughout my ascension, I have been the recipient of emails, texts, phone calls, keynote Q&As, mentoring conversations, professional discussions, and social chats with friends and colleagues that have inspired me to take on this topic. It's important for us all to know that there are student-mothers on our campuses that care very much about earning degrees to lift their families out of poverty. There are faculty-mothers who also desire to achieve tenure and promotion, produce ground-breaking research, and/or climb the academic and administrative ranks, alongside the "manager moms," to provost, president, or chancellor. This article is for them and every woman who felt the guilt of leaving a newborn to head back to work "too soon."
In an era where we affirm the goals of the American Council on Education's initiative to increase the number of women in senior leadership positions in higher education through programs, research, and resources, titled "
Moving the Needle
," why isn't there more discussion about the benefits, challenges, and opportunities that come when mothers seek advancement? Women students and professionals continue to be forced "off-ramp" due to the temporary road closures of a life under construction. This delay is not due to lack of intelligence, competence, drive, or expertise, but is instead the outcome of choosing to have a child through birth or adoption.
While the number of women higher education leaders don't reflect perfect parity, we presently see the largest number of women in senior leadership positions in our nation's history. This begs the question, why are the number of women presidents increasing but the number of campus daycares decreasing? To turn things around, it's important for institutions of higher education to break their addiction to the relentless pursuit of dwindling numbers of eighteen-year-olds, and become relevant to new and emerging student markets. There exists a strong desire of many to provide educational opportunities to women who have served our country in the military and now want to earn degrees. There are some campus leaders who want to open access and ensure completion for teenage moms, mothers like myself, who were told that they could never go away to college because they had a child young in life. Had I believed those individuals, I wouldn't be where I am today, nor would my unmistakably brilliant, compassionate, child of my youth. I knew that education was our ticket out of poverty and crime-infested neighborhoods. I just needed someone to show me how.
The decision to leave everything behind, take a chance, and move me and my child to a place where I had no relatives, no friends, and no support network was a huge risk. What I did have, however, were a few administrators who, with no playbook or roadmap for situations like mine, advised me the best way that they knew and directed this twenty-one-year-old student with a seven-year-old second grader to housing, school, medical, food, and other supportive services in my new community. Now, almost thirty years later, I still call the Capital Region of New York, home. I have raised my children here, paid taxes, volunteered, and been a one-woman regional economic driver because I chose to stay and give back to a community that gave me so much. This is what you risk and gain when you educate an undergraduate single mother. You also give her great role models when she sees other mothers on campus, with their children, teaching courses, leading in the C-Suite, or conducting groundbreaking research. When you provide affordable daycare on campus you give her the chance to pursue her goals and allow her children to play alongside the children of her professors, staff, and administrators. She can focus because she knows that her child is safe and close by.
Mom employees too are happier with campus daycare services because instead of feeling torn by returning to work full-time to teach or serve, they can know that their baby is just a brief walk across campus. I realize that not every institution can afford to operate a daycare facility, but there are other ways that institutions can support mothers, fathers, and families in general. At the core of our identity as institutions of higher learning, we are dedicated to social justice and closing equity gaps. With this being the case, why is it that corporations are so much more progressive than of us in this arena? Many colleges are playing catch up with companies that have liberal leave policies, flex scheduling, private lactation rooms, sick and same day nanny services, and more. The success of student and employee moms equates to not only fulfilling our mission but improving our margins. Studies show that the number of single-parent women attending college has doubled in twelve years and that over 2.1 million college students now fall into this category. This is just a segment of a larger market, but it's a healthy share of that market and one that very few institutions seem to be focused on. A briefing paper released in October 2019 by the Institute for Women's Policy Research [link removed no longer active] stated that "Research suggests that access to affordable, high-quality child care can increase parents' ability to complete educational programs, and that without it, their chances of persistence and completion are much lower."
During times of dwindling resources where institutions are holding the line on raises, reducing retirement contributions, and in some instances conducting layoffs, supportive family services are only a few of the untapped resources through which colleges can invest that will simultaneously increase student retention and build the morale of a segment of employees. What about family housing programs like those listed in an August 2019 article listing
The Best Colleges for Students with Children
? How about family resource centers like the one at
Los Angeles Valley College
; or the at-home nanny care listed in Rennselaer Polytech Institutes' benefit handbook for employees? These are just a few of the resources that exist, and we need so many more. After all, haven't we already filled in the lazy rivers, taken down the rock walls, and other high-ticket items that were built for millennials and reflect our continued addiction with the dwindling number of traditional undergraduates, a shrinking market share?
In spite of this emerging demographic and untapped market, some leaders will still choose to focus on the liabilities associated with hosting campus childcare centers or family housing in college residence halls. Yet, week after week, we see scandals in sorority and fraternity life, athletics, marching bands, and among other campus cohorts, that keep legal counsel, and our insurance companies on speed dial. It's ironic that we talk about all of the dangers associated with a four-year-old in an on-campus pre-school program and a seven-year-old in apartment-style dormitories, while we turn a blind eye to the eighteen-year-olds whose choices have almost bankrupted our institutions. There's something wrong with that equation. That's the bad news. The good news is that there are women in the academy now, along with supportive male and gender non-conforming individuals who are transformative, entrepreneurial leaders who envision and embrace a new path forward for the mothers (and increasing number of front-line fathers) that they employ and educate. This gives me great hope for the future of family and the condition of our colleges.