November 4, 2019
How to Deal with an Unexpected Job Loss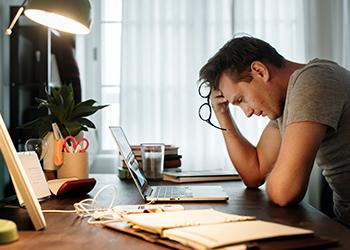 Rawpixel.com / Shutterstock
Unexpectedly losing your job is a double whammy; it's both a shock and a loss. Where do you even start picking up these pieces, when your whole sense of security and identity feel like they're knocked out at once? How do you muster up the confidence it takes to get yourself together and launch a job search? How do you garner the wherewithal to present a composed, impressive face in an interview?
This is a big life change, and it's an unexpected one; therefore, it helps to absorb the news in stages. Give yourself time to digest the many dimensions of this development. You need to mourn your loss and absorb its lessons before you can find the peace it takes to move on.
There are two sides to the challenge that you now face -- the emotional and the logistical. It's important to seek support with each to aid your healing and your reinvention. Here's how to get started.
Emotionally Digest Your Loss
Yes, you have a big project on your hands, but it's hard to get traction in your job search until you spend some time sorting through your feelings about what just happened. There are all kinds of reasons for unexpected job losses, and some are more emotionally complex than others. Whatever you're weathering, give yourself permission to mourn.
"People feel like they are the only person that this has ever happened to" explains Ginny Farrell, career consultant with
Lee Hecht Harrison
, "but everybody seems to have an experience like this at least once. It happens to all of us. The hardest part is maintaining your own sense of self-worth."
Farrell points out that it's important to grieve the loss and to recognize its emotional impact. She explains: "It's huge because you're not only losing your job, and the place you get up and go to every day, but it's also all the relationships you've built over the years."
It takes time and support to get your bearings after the loss, to recover and to move on. A career coach or a counselor can be helpful as you sort through your feelings. While designating the resources for this can seem problematic when you're newly unemployed, it's important to do what healing requires. After all, you have a new chapter to shape, which takes clarity, energy, and confidence.
Reclaim Your Confidence
Farrell explains that the pride and ownership that employees attributed to their work can be dislodged by a sudden job loss. They can then find themselves doubting the value of those efforts, lamenting: "How can they continue on without me? No one else can do it the way I do it."
Again, it's important to recognize these feelings and to work through them honestly. At the same time, it's vital to move forward, updating what Farrell refers to as your "infrastructural pieces," including your LinkedIn profile, resume, and cover letter templates. While it may seem difficult, at first, to generate the gumption to refine these pieces, doing so often stands to leave job seekers feeling impressed by what they've accomplished in their role and the new entry it gives them for their resume.
Do what it takes to succeed with this work. Hire a resume writer or a career coach if you feel like you need professional direction as you rebuild your infrastructure. There's also plenty of helpful resources to guide you if you prefer to
rebuild your materials
.
Farrell explains: "When someone calls you for your first phone screening, instantly your attitude changes. It could be a month before you get that first phone call and once you get that, it's a huge psychological breakthrough." Do what it takes to get to that breakthrough.
Fortify Your Network
Growing your network
and reaching out to friends and former colleagues is a vital strategy for job seekers. It stands to provide professional as well as emotional support. It can feel humbling to reach out when you're feeling a bit fragile, but again, many professionals have found themselves in the situation you're in. Most are eager to help in the ways they've been helped or to pay it forward knowing that they will someday need the support.
As you lean on your network to learn about open positions and to line up references, you'll find that your contacts are usually open to lending their support. Use the momentum to fuel your reinvention.
Create a Job Search Routine
Part of the immediate difficulty of a sudden job loss is how it transforms your daily routine. It's hard to go from the rigors of full-time employment to existing in a state of flux. It's important, though, to build a routine around your work as a job seeker. This helps both logistically and psychologically.
Farrell advises: "Get up at the regular time. Get dressed. Be at your desk. Spend four to five hours a day doing your job search." There's plenty to do, between connecting with your network, seeking opportunities and following up. It's important, though, to be disciplined about sticking to your routine. Farrell recommends: "We don't encourage people to do this all day long. We encourage taking a block of time to focus on this."
Mindfully Rebuild
While a job loss can be painful and worrisome, there is also an opportunity here. This may not have been a moment that you planned for a professional reinvention. You may not feel confident that you can afford it or that you have the gumption to weather it, but it's here.
Sometimes, the unexpected invites an opportunity to make a pivot that you weren't certain that you could handle. Opportunity has a way of turning up in the unexpected, but this is a chance to invite a bold change. Send that resume to an institution where you've always wanted to work but hesitated in the past. Apply for that role that seemed daunting. Call on a connection with whom you hoped you could partner more closely. Step out and try your hand as a freelancer or a consultant.
Farrell explains: "Sometimes people don't even realize the stress they were under before they lost their job…I find that, very often, people say that their new job turns out to be better. It can be hard to get people to hear that message, in the midst of the grief, but sometimes they didn't even realize that it wasn't ideal until after they have a new job and they look back on the one they lost. Then it becomes clear that it was actually a change for the better."