September 23, 2019
Helping Grads and Their Parents Navigate Loan Repayment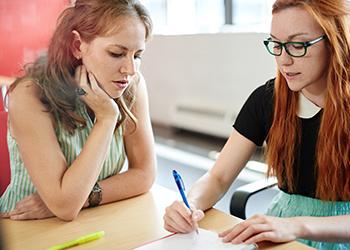 ESB Basic/Shutterstock
It's the final phase in the financial aid process, but helping students get ready to pay back their loans is no simple victory lap.
A federal lawsuit filed July 11 alleges the Education Department failed to properly implement a loan forgiveness program for public servants, throwing millions of them into an uncertain debt future. Meanwhile, U.S. borrowers' total student debt reached $1.6 trillion in March. And learning institutions routinely take heat for ramping up the debt without a corresponding bump in graduates' salaries.
For their part, aid officers are getting more proactive about how they help students in the payback phase. And more are going beyond basic loan counseling, offering direct support to head off drop-out rates. Dropping out leads to more post-college loan defaults than sky-high balances, studies show.
"There's a lack of awareness around what levers aid officers actually have to control borrowing, so the tendency is to assume schools are doing a bad job," said Helen Faith, Dean of New Student Transitions at Lane Community College in Eugene, Oregon. Schools have limited ability to control students' individual borrowing levels or require debt counseling, she said, and many colleges are dealing with significant numbers of students from very low-income households.
"We are serving a lot of first-generation college students and low-income students who are struggling just to survive," Faith said. Her school has a food pantry, free clothing, and warming centers for students needing shelter.
Some progress is showing. At University of Illinois, students who completed a financial class were more likely to cancel a portion of their borrowing, lowering their interest expenses substantially, said Andrea Pellegrini, assistant director of the school's Student Money Management Center. The school offers a variety of live and online classes, and they cover general savings strategies in addition to loan information.
Longer-term financial education -- such as counseling parents on how their retirement may be impacted by the debt -- is still pretty rare, but experts say there are several steps aid officers can take to improve long-term outcomes for graduates:
Engage.
The biggest financial devastation often occurs not among graduates with the most debt, but among students who dropped out of school and now can't command salaries high enough to pay off loans, Faith said. That's why it's important to get faculty and other departments involved in identifying students at risk of leaving, she said. "We're often the last to know a student is struggling, so we do a lot of in-service trainings" to help staff in other departments recognize students in need.
Inform.
As the AFL-CIO lawsuit filed this month against the Education Department over public student loan forgiveness progresses, it's important to update graduating students and alums about any changes that result in program rules, notes John Bohnsack, a financial adviser in College Station, Texas. His practice includes a number of educators who should eventually qualify for loan forgiveness because they went into teaching jobs. With an extremely small number of loans forgiven through the program to date, he still expects those numbers to grow, so he has advised several clients to continue making payments on the 10-year repayment plan. If loan forgiveness happens after the 10 years, he said, it's a win. Very few graduates would have been able to pay their loans off quicker anyway, he reasons. Of course, if you're counseling an individual student who does have the resources to pay off loans sooner, be sure that option is discussed.
Communicate.
Teach graduating students to communicate with their loan servicers and to know the obligations those servicers have to borrowers, said Pellegrini. Advertise the Repayment Estimator at studentloans.gov on social media and other communications outlets. And take action if you hit roadblocks. "If a servicer is not doing what they promised, report them to the Consumer Financial Protection Bureau," she said.
Watch.
Be aware the financial technology, or fintech, world is creating new planning software mostly aimed at financial advisers that will help families navigate the loan repayment period. Players include Pay for Ed and Plaid. Keep an eye on these sites: They can add organization and functionality to families' repayment process, but it's important to remind all students to consider the pros and cons with various consolidation offers. And if your school has a preferred lender list, continually check that they are offering superior rates and terms.
Finally, be ready for an uphill climb. Experts say they are worried about their ability to truly impact student outcomes as more families struggle to pay.
"We have a growing issue with the cost of college due to states pulling back and federal student loans not keeping pace, leaving students with higher costs," said Faith. "I worry this problem will continue to get worse."