September 18, 2019
Toxic Masculinity and Higher Education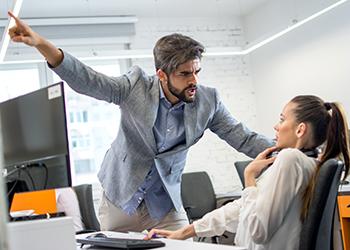 Bojan Milinkov/Shutterstock
Carol Frances, professor at Claremont Graduate University, offers a heartening update in her piece
The Status of Women in American Higher Education
. Frances writes: "Enrollment of women students in American colleges and universities has soared. Many more women are earning bachelor's, master's, and even doctorate degrees. More women are becoming faculty at all ranks, including assistant, associate, and full professor. More women are employed on college campuses in both professional and non-professional jobs. More women are employed in administrative and managerial positions."
It would seem that a strong female presence on every level of academic life would foster environments where female students and professionals are respected and well-supported in their work. But reports of male students and professionals behaving destructively towards women continue to surface regularly: the reported
rape attic
at Swarthmore, sexual assault allegations against two
Dartmouth
professors, and recent accusations against a
Yale professor
have been shocking, industry-wide.
What is toxic masculinity? How does it relate to these violent stories? How does toxic masculinity root within a culture and within institutions of higher education?
The Myth Versus the Man
Cultural images of masculinity are confusing, contradictory and unattainable. The mythical man doesn't cry, fail, or tire. He provides in abundance, maintains his chiseled physique, and always gets the girl. "Being a real man isn't something 'internal,' but something performed -- for other men. Masculinity is 'homosocial' -- meaning it's other men who judge whether we're doing it right. We want to be a 'man's man,' not a 'ladies' man.' A 'man among men'" writes
Michael Kimmel
, author and professor at Stony Brook University who specializes in masculinity and gender studies.
The standard definition of masculinity is narrow and ill-accommodating. The American Psychological Association's (APA)
Guidelines for Psychological Practice with Boys and Men
explains: "the ideal, dominant masculinity is generally unattainable for most men."
Sexism, however, is part of the myth that tends to be more easily attainable. Like any bullying behavior, sexism stands to emotionally elevate those confronting fears that they may not measure up. The APA's guideline explains: "Although privilege has not applied to all boys and men in equal measure, in the aggregate, males experience a greater degree of social and economic power than girls and women in a patriarchal society…Sexism exists as a byproduct, reinforcer, and justification of male privilege. Although the majority of young men may not identify with explicit sexist beliefs, for some men, sexism may become deeply engrained in their construction of masculinity. For instance, most boys are taught from an early age that they will suffer negative consequences for violating masculine role norms."
Exhibiting sexism, then, can foster one avenue of belonging in the otherwise narrow masculinity standard. Jared Yates Sexton, professor at Georgia Southern University writes in his book
The Man They Wanted Me to Be
that it's "a constant struggle not to succumb to toxic masculinity for any man who's grown up surrounded by it. For many of us, it was the reality we were raised on, a reality that defines how we think, a reality where patriarchal power and privilege serve as a foundation for not just how we see the world but how we conduct ourselves, particularly when we are at our worst."
Socialized to Miscommunicate
Another challenge that males tend to encounter takes place before they're even verbal. Many boys have been raised to absorb the communication skillset that the myth would need, rather than the more robust emotional vocabulary that an actual human needs.
Andrew Reiner
, who teaches a masculinity course at Towson University writes in the
New York Times
: "boys are taught, sometimes with the best of intentions, to mutate their emotional suffering into anger." When boys are encouraged to avoid emotions other than anger, it stifles their emotional growth and hinders their ability to develop a robust language.
Psychology professors
June Gruber
and
Jessica Borelli
write in
UC Berkley's Greater Good Magazine
: "In another study examining conversations between mothers and young children, mothers interacting with daughters employed emotion vocabulary of greater density and depth, whereas conversations with sons tended to focus primarily on a single emotion -- you guessed it, anger."
Rather than exploring and expressing their full range of emotions, boys are often left with insufficient tools, making it difficult to cultivate a meaningful language for expressing themselves and problem-solving through language. Their anger is often the most developed tool they've been trained to use to bridge their full emotional experience.
The Problem of Privilege
Men hold a privileged place in culture and in higher education. Frances's research reveals a "dismaying lack of continuing success of women in the economic domain of higher education…Women professors are paid less than men and the salary gap continues to grow. After huge gains in the number of professional degrees earned by women, the trends have plateaued in recent years. Finally, the number of women college presidents and the number of women serving on governing boards has hit low ceilings."
While males continue to maintain privilege when it comes to employment status and opportunities, many remain unconvinced of their fit, value, and worthiness. Having those feeling, though, never mind expressing them, stand to make them feel even less worthy, pushing them further outside the narrow ideal.
Frustration, privilege, and anger is a toxic blend. It can breed a sense of entitlement that seeds toxic masculinity, expressing itself through a spectrum of behaviors. Sexton writes: "Simply put, the patriarchal system that devalues women can result in any number of trespasses, everything from economic discrimination to harassment, stalking to murder. The system is untenable, unachievable, and when people are forced to conform the consequences can be deadly."
Safer Places
Toxic masculinity is a danger in culture, in the workplace, on campus. "Undoubtedly, unchecked toxic masculinity is one of the biggest threats to American women. Statistics have shown that one out of every five will be sexually assaulted; women make up 91 percent of all rape victims; and upwards of 1,600 American women were murdered by men in 2015 alone." Sexton writes.
Women deserve better, and so do men. It's time to retire old notions of the masculine gender ideal, in exchange for a masculinity that's more informed, genuine, and true. Men's emotional wellness and wholeness are important. Boys need more comprehensive training, including an emotional language that recognizes and engages the fullness of their humanity. "Humans are not intended to suppress their emotions indefinitely, to always be confident and unflinching. Traditional masculinity, as we know it, is an unnatural state, and, as a consequence, men are constantly at war with themselves and the world around them," Sexton shares.
Women are flocking to colleges and universities around the country to work, learn, and grow. They deserve safer places. Institutions of higher education have long done the work of humanizing through scholarship, research, reflection. We need that work now.
Sexton writes: "We must recognize the limiting of reality that patriarchal masculinity creates. This world could be different and so much better, we could address the major problems of our time and seek out a better and more functioning democracy and society, if only we could move beyond our antiquated ideas."