August 6, 2019
Summer and the Season of Transitions in Higher Education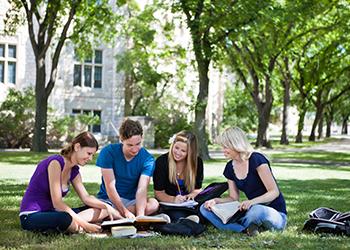 Tyler Olson/Shutterstock
After the spring flowers blossom and graduation ceremonies come to a close, higher education shifts to the summer season. For some campuses, summer nears the end of what has been a long academic year; for others, it is a time of transition and a chance to reset before the next class of students arrives in the fall. With fewer campus programs and students taking classes, summer has a noticeably different feeling for the faculty, administrators, and students who remain. However, if one were to take a peek behind the scenes of campus life, summer is also a time when important decisions are made and processes shape the organizational function of colleges and universities.
New Student Orientation
When one class graduates, a new group of students follows. No matter the degree of study, the first point of entry into most higher education institutions is an orientation program. In an
interview
with HigherEdJobs, former NODA President Dr. Cynthia L. Hernandez stated, "Successful orientation programs have been linked with student retention. Components of a successful orientation program assist students in gaining the attitudes, knowledge, skills, and opportunities that will assist them in making a smooth transition to university or college community, thereby allowing them to become engaged and productive community members."
Seemingly, orientation is more than a registration process; it serves as a primer for incoming college students to engage with the institution that will be their "home away from home" for the next four years. It also serves as a foundation for higher education institutions to sustain and retain a healthy student population of current students and potential alumni that will continue to engage with the institution for years to come.
Summer Immersion Programs
Beyond orientation, summer is also a time when colleges and universities open their campuses to prospective high school students prior to the fall when they are filling out applications and deciding where to attend college. Institutions often host a number of summer camps, welcome events, and pre-college programs. For some of these programs, the intended purposes benefit students seeking college credit or exposure to higher education courses. However, there are additional incentives that favor hosting institutions. Discussing the Summer Academy program at the University of Vermont, a two-week pre-college program for rising high school juniors, the admissions staff
affirm
, "We find that these programs are motivating for students to do well in their remaining time in high school. Summer college programs also provide a challenge for the best prepared students to get a head start on their college education, and potentially help save money by shortening their time needed to complete their undergraduate degree."
It is always bittersweet when seniors graduate and leave the institution, but inevitably, it offers opportunities for new students who come with excitement and fresh energy that continue to impact and shape campus culture year after year.
Faculty and Staff Changes
Students are not the only ones that come and go in the summer. As fiscal year budgets end and begin on July 1st, faculty, staff, and institutions across the country begin making decisions about hiring, promotions, and transitions. Some industries experience
slow down
in hiring during the summer season, but in some cases, recruitment in higher education can extend into the summer. This varies from institution to institution and can depend on a
variety of factors
including budgetary flexibility, the need for personnel prior to the beginning of the academic year, and how long the position has been vacant going into summer. Thus, administrators charged with hiring and supervising have to make important decisions about departmental needs and requirements. Conversely, those seeking new positions must ride the wave of uncertainty that comes in summertime in hopes that they will find the right position and transition before fall.
Much like the beach waves, summer in higher education has its share of ups and downs. There are moments when students, staff, and faculty are able to stop, smell the roses, and take time to rest from the busy academic year. Conversely, there are moments when quietly -- and almost simultaneously -- institutions must continue the work of providing and maintaining quality educational environments for students. Inevitably, this work looks different across different college departments and summer brings the opportunity to create a new path for the next year. Regardless, there is an opportunity that summer provides unlike any other time during the academic year: an opportunity to connect with the importance of the work, build new relationships, and create new possibilities that outlast the heat of the summer sun. Students, faculty, and administrators should take this time to reflect on the progress made this past year, but should equally use the summer as motivation to start the year on the right path for success.