August 5, 2019
Your 'Bad Boss' Might Actually be a Blessing in Disguise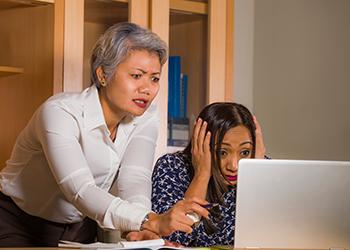 TheVisualsYouNeed/Shutterstock
As the popular saying goes, "people don't leave companies, they leave bosses." While it is an insightful and often accurate observation, it fails to mention how weathering these storms with grace, determination, and flexibility can support your career development and give you a leg up in your next job. No one likes to work for a boss who micro-manages or overloads employees, is uninterested in their professional development, or is challenging in some other way. However, these experiences offer unique and valuable opportunities for professional growth.
Mary Abbajay, author of the award-winning, best-selling book "
Managing Up: How to Move Up, Win at Work, and Succeed with Any Type of Boss
," encourages us to embrace the challenge and learn from it rather than resist it. She says:
"You will learn a great deal about your resiliency, values, likes, dislikes, strengths, weaknesses, and flexibility. You will learn how to adapt to people who operate differently than you -- people with different perspectives, personalities, priorities, and pet peeves. You will learn strategies to navigate other difficult people in your life, like co-workers, neighbors, friends, relatives, and yes, even significant others. But the most important thing you will learn is what kind of leader you want to be when it is your turn. Nearly everyone interviewed for my book said their best leadership teacher was their worst boss. The experience may be terrible, but the lessons can be priceless."
So, next time you're lamenting about troubles with your boss, employ these helpful lessons and remember how this trying experience stands to benefit your career development:
1) You're learning to thrive amid chaos or pressure. If you can learn to survive -- or even thrive -- under a challenging manager, you will gain a competitive edge against other job seekers. Overloaded with assignments? Treat it as a challenge to enhance your productivity and time-management skills. Are you constantly dealing with unclear instructions? You'll learn to take initiative and get the job done on your own.
If you can succeed in this work environment, imagine how you can shine in a healthy professional environment with a great leader.
2) Difficult doesn't always mean bad. Is your boss really a bad person? According to Abbajay, it's not likely.
"We have to remember that bosses are people too -- and people are complex constructs," she cautioned. "We all have our preferred ways of operating in the world -- and when we are asked to operate differently, we tend to label it as 'difficult.' While there are certainly some bad people who are bosses, most of the bad bosses are just bad at being a boss -- not necessarily bad people."
3) You're learning how to manage up. While it would be easy to leave the fate of your relationship with your boss solely in their hands, you have the power to influence the trajectory of the relationship. Abbajay recommends identifying and learning to navigate the problematic behaviors of your boss rather than labeling them as a difficult person.
"Once we label a whole person as difficult, we lose our ability to make strategic choices about the actual behavior that is a problem," she explains. "It helps to break down the problem into smaller, more manageable bits."

If you're dealing with a micro-manager, for example, develop strategies that address that particular dysfunction. Micro-managing often stems from a desire for reassurance that you're delivering work that meets their expectations. Rather than resisting it, give your boss what they need. Involve them in the details of your work so they know it is being completed properly. Once you prove that you're capable and earn their trust, they're likely to loosen the reins.
4) You'll know how to ask for what you want. If you're dealing with a boss who is inattentive, is too busy for you, or shows no interest in cultivating talent, you may feel like you don't have an ally or a mentor to support your growth. However, it does present you with an opportunity to learn how to take control of your career, Abbajay said.
While it'd be nice if all our bosses recognized talent and provided advancement opportunities or
stretch assignments
, this often doesn't happen. If these opportunities aren't presented to you, don't be afraid to ask for them.
"No one should care more about your career development than you," said Abbajay. "Instead of complaining about your boss's lack of guidance, go out and find the guidance you need."
Taking initiative, seeking out additional responsibility, and knowing how to secure professional development opportunities are skills that will serve you well throughout your career.
5) You're learning how to appreciate -- or maybe even be -- a good boss in the future. As the famous adage goes, you can't fully appreciate the good until you've experienced the bad. If you learn nothing else from your bad boss, take of note how they made you feel and how they made your job challenging. Consider what could have improved your experience. You'll know how to spot a good boss when you're interviewing for your next job -- and potentially, how to be an exceptional leader one day.
Dr. Terrell L. Strayhorn, Ph.D., Vice President of Academic & Student Affairs at LeMoyne-Owen College and Founding CEO of Do Good Work LLC., cautioned that it's important to maintain a positive attitude -- "one focused on lifetime learning and growth," he said. He recommends taking an open or strengths-based approach rather than a fixed approached.
"Fixed approaches are rooted in the idea that 'things are as they are' and we can do very little to change them," Strayhorn explained. "Bad bosses are bad bosses. They can't be groomed, coached, or developed. And if one's boss is bad, then by extension, the job must be bad. It's a vicious cycle, and that logic train leads to a dead end."
On the other hand, he explains that open or strengths-based approaches are rooted in the philosophy that people and circumstances can improve.
"This attitude opens up the possibility of things getting better," he said, "and assigns bigger purpose and meaning to 'bad boss' experiences, making them necessary for growth, discovery, and learning."