July 15, 2019
Stretch Assignments: The Soft Promotion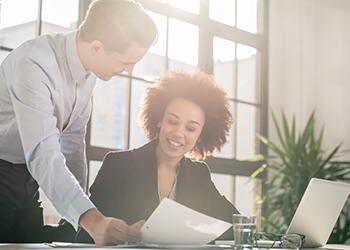 Kzenon/Shutterstock
Keeping high performers engaged in their work and ensconced in their roles is a perennial challenge for managers. Stellar staff members tend to learn and evolve quickly. It serves managers well to be proactive in their efforts to keep these high performers connected and motivated. This can be challenging, though, when there are no formal advancement opportunities to extend.
When that's the case, a stretch assignment can be an ideal way to show your high performers that you recognize their prowess and that you support their continued growth. Stretch assignments provide opportunities that are beyond the scope of team members' job descriptions. These assignments nudge employees up to higher performance levels, giving them a chance to prove themselves in new ways. Stretch assignments are affirming, engaging, and resume-building.
Dr. Sasha Thackaberry, vice provost for Digital and Continuing Education at Louisiana State University, explains: "Stretch assignments are always an advantage, always an opportunity. In my professional career, many of my internal promotions have occurred after I had already gained the necessary skills to be successful in that next role, having been provided myself with multiple stretch opportunities by supportive mentors. And while they're always an opportunity, they are also absolutely asking the employee to prove him or herself! That's part of advancement -- taking up the initiative, demonstrating what you can do, going the extra mile."
Here's how you can use stretch assignments to anchor a retention strategy for your team.
The Case for Retention
Many managers struggle to retain their high performing team members. Employees want to be fulfilled in their work. High performers are energized by opportunities to grow, evolve, and advance.
In his piece "The Influences Impacting Staff Turnover in Higher Education," Obed Figueroa, a researcher who specializes in engagement, inclusion, and retention initiatives explains:
"In Higher Education, the turnover rates have been disruptive and costly. It is projected that 68 million dollars is spent as a result of turnover in the workplace. Some of the hidden costs are the reduction of productivity, skill drain, and poor morale for the remaining employees. Additional costs can also be found in the time and efforts taken to search and train new employees. The silent thief that robs your bottom line is called turnover."
How do you combat the "silent thief?" Figueroa's research unearths these as some factors that can seed turnover: an unsatisfying relationship with one's supervisor, a feeling of being unrecognized or unappreciated, and limited opportunities to advance professionally.
Why Stretch?
A stretch assignment is a soft promotion. It's a way for management to keep employees engaged in their jobs, by introducing new dimensions to the work. It takes emotionally intelligent managers, who are approachable and tuned into their team members' skills, talents, and needs to help direct their team's trajectories via stretch assignments.
Clearly, it also requires savvy, dedication, and hard work from the team members. They demonstrate their readiness when they show that they can identify and embrace opportunities.
Thackaberry explains: "I'm always open to having career conversations with the team, and occasionally someone will come and ask for additional responsibilities, or say they're ready for that next step. So I always extend a challenge… and then the ball is in their court. It becomes relatively easy after that to see who shines. The first thing it does is demonstrate if the employee can figure things out for themselves. If the team member comes back to me with dozens of questions, absolutely you know that they're not a self-starter, or they can't use their resources or network to do some background work. The first thing when seeking folks to promote is having confidence that they can work it out for themselves."
A stretch assignment can be a savvy way for managers to keep high performers on the team while helping them continue to evolve. It positions the managers to help direct the employees' growth, which can benefit the team, division, and institution. It's an investment in the employees' potential that stands to benefit all parties involved.
Management Support
Fostering a culture of retention is a complex undertaking. It's a step above management work -- it's leadership work. This means that engaging in the ambition to build on a culture of retention on the team is a stretch assignment for managers.
Managers need their own professional support to develop the sensitivity, awareness, and communication skills that the work requires. Mentoring, training, and rich development opportunities stand to help managers refine the skillset that this stretch assignment invites. It's a worthwhile investment for an institution to make in growing its management and leadership pipeline.
Cultivating a Culture of Retention
Stretch assignments position managers to infuse their team culture with a spirit of enthusiasm and growth. It's exciting to belong to a dynamic culture, where excellence is recognized and cultivated.
Build on that. Encourage your employees to see their efforts on your team as a skills and development pipeline. Thackaberry points out: "Team members should be prepared to shine on multiple stretch assignments, over time, in order to prepare for that next role. It's unrealistic for employees to think they're going to step up and shine once and get that next promotion. It's demonstrating excellence over time that will enable the employee to gain skills and prepare for the next role."
Invite your team to stretch, and prepare to stretch with them. Growth fosters a culture of retention, for teams and managers alike.