June 28, 2019
Ethical Considerations of Student-Faculty Relationships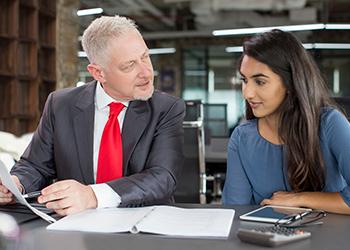 Mangostar/Shutterstock
For any aspiring scholar or student invested in their academic studies,
developing a working relationship with faculty is essential to success
. As stakeholders with considerable influence over the curriculum, research endeavors, and governance of an institution, faculty members carry a significant weight of responsibility both for the university and the students they advise, train, and mentor in the process. Factors to consider in the professional relationships formed between students and faculty can be highly dependent on institutional priorities, available support and resources for faculty and students, and the goals of both parties, to name a few. Regardless, central to the relationship between faculty and students are key ethical considerations that research and practice show are necessary for beneficial development of students and faculty in higher education.
Mentorship Matters
Students and faculty decide to work together for a multitude of reasons: a desire to conduct research, recommendations for professional opportunities, or general course advising for an academic program. These are reasonable circumstances faculty come to expect when approached by students; however, in most cases, students hope to receive mentorship and guidance from faculty. Quortne Hutchings, a doctoral student at Loyola University Chicago, echoes this sentiment: "I think it is important to know that faculty can be an advisor, but if they're truly invested in your success, they become your mentors which is more valuable to me than anything else."
As Quortne suggests, a student's intent in working with a faculty member can go beyond their qualifications or rank in the university. Some students seek out faculty based on research interests or shared personal experiences between each other. This connection -- whether for a semester or year -- has the power to
inform the personal and professional pursuits of students
, even well after graduation.
Defining Short and Long-Term Goals
Students and faculty inherently have differing motivations for seeking support or collaboration with each other; some may be seeking opportunities to mentor or be mentored, others may have aligned professional interests, and some may seek personal support that cannot be provided by other administrators or faculty members on campus. In any case, setting goals for the relationships are necessary to create a healthy foundation for development. In the "
Guide to Best Practices on Faculty Mentoring
" developed by the office of the provost at Columbia University, members of the provost's advisory council agree that, "In formal mentoring relationships, the roles and responsibilities of mentors and mentees should be defined and made explicit from the outset. Both the mentor and mentee have responsibilities for maintaining the productivity of the relationship."
Creating and Communicating Boundaries
Part of goal-setting includes establishing rules for engagement, specifically boundaries for ethical, professional, and personal conduct between students and faculty. Without the establishment of boundaries, there is a risk of an investment of a different kind that may leave the student or faculty emotionally or mentally exhausted by the nature of working together.
Recounting the emotional dilemma she faces as an empath and teacher
, Tracey Lewis-Giggetts, a professor of English at the Community College of Philadelphia, explains, "Empathy fuels my passions and is the basis of the compassion I try to show my students... Students figure out early on that my deep compassion often shows up in a hardline stance on their accountability... It's the most compassionate thing I can do, I think."
How boundaries take form will look different depending on the capacity of each student and faculty member, whether that means outlining specific office hours or creating written guidelines for certain issues that surface during the course of interaction. Though there are differences in working relationships between students and faculty, the parameters and boundaries of investment must be understood by each party. Creating and communicating boundaries at the onset of forming a partnership between students and faculty affirms the goals of the relationship and ensures neither are placed in an unhealthy situation where needs are not being communicated or there is an over-extension of effort that supersedes the goals of each party.
Conclusion
Forged partnerships and relationships between students and faculty are inherent to the history and founding values of U.S. higher education. The outcomes of these relations not only benefit students and faculty, but are far-reaching in their ability to impact the ways that institutions produce knowledge, create educational opportunities, and advance the aims of important issues we must face as a society. These issues cannot be addressed without centering the need to form relationships to one another that are mutually beneficial, communicative in practice, and goal-oriented in approach. Respectively, students and faculty each have great potential to transform our college and university campuses. However, together and in concert with the needs of each other, student and faculty relationships have the ability to bring great change to research and practice in higher education.