June 3, 2019
Can You Really Have It All? Women Today Say Yes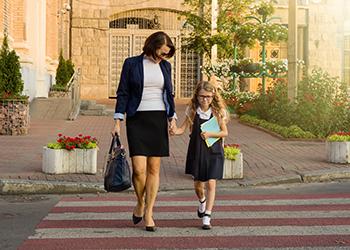 VH-studio/Shutterstock
For the past eight years, I have annually conducted a workshop for a group of undergraduate women from across New York State who are fellows in a leadership development program that focuses on increasing the number of women in politics, government, and advocacy. I share with them my life story and speak openly about my journey from being a teen mom, who was born and raised in public housing in New York City, to later earning a doctorate in law and policy and the position of vice president. I talk about failing out of college the first time around and the road back to academic redemption. I speak about life part deux, doing motherhood again, after a twenty-year gap between children and the good fortune of marriage, friendships, and careers along the way. When I am done, this group of women applauds and someone asks what has come to be an inevitable question, "How do you have it all and live a balanced life?" My response is almost always, "I will let you know, just as soon as I find out."
Betty Friedan, author, activist, and one of the most prominent leaders in the rise of second-wave feminism, once said, "You can have it all, but not all at the same time." So why are women today defying this notion, and going for the "ALL" anyway? We who have done it (pursued the all at the same time), know one thing to be true, and that is, if you stop in the middle of that pursuit to question the sanity of your decision and actions, you run the risk of IT or YOU falling apart. So my advice back then would be "by any means, don't think, just do." Now after gaining more age and some wisdom, today, I'd probably say that was bad advice.
Women put an amazing amount of pressure on themselves to achieve. Even today as we remain primary caregivers to our families, responsible for children or aging parents, nurturing friendships and caring for beloved pets, we aspire to pursue the equivalent of the unicorn, a simple word called "balance." We are constantly told to engage in self-care while we are bombarded with the cares of life and the people we love, our jobs, and sometimes, graduate study. We work hard to make it look like we can handle it all when in truth, we are one homework assignment away from dropping out, one phone call away from giving up, and one email away from quitting our jobs. We are teetering on the edge of the ledge, which begs the question, what are we willing to sacrifice to get there, wherever there is?
I am always intrigued when a group of 20-year-old women leaders asks me questions about marriage and family during career workshops like the one that I have mentioned. These students are worrying about life events that are traditionally almost a decade away, but they are planning and making academic and career choices with the future in mind. It shouldn't surprise me because I have found that when you have the freedom and ability to be transparent about your journey, it prompts the audience to reciprocate and openly share questions of importance. These women leaders want to talk about their careers in relation to family, partners, friends, community, advocacy, and the holy grail of life, "balance." This led me to wonder and inquire about where young women, in general, go to have these conversations and explore these ideas with women from their generation and mentors. Mentors can offer advice on navigating the choppy waters of "being a great mom and a great CEO but never both on the same day," a quote I heard last year while attending a conference.
Most of the women I speak to these days are millennials and what I have come to appreciate about millennial women in the workplace is that they push back and challenge the normative notion of giving up their lives in pursuit of a career. For educated women of my generation and the one prior, we talked balance, but we lived with the scales ever tipped in one direction as we climbed the professional ladder. This did not serve us well because many paid a heavy price for career advancement. We sacrificed time with children, dying parents, nurturing friendships, the pursuit of love, and even finding our purpose and vocation. Of course, there are many variations to these struggles just as there are many stories of successful children, healthy aging parents, and great career outcomes. There is no hard and fast rule. The point is, for many like myself who may have decades of experience in higher education, we can use these experiences to help younger women launch their careers and avoid some of the pitfalls we faced. We can do this only if we listen to them, understand them, and don't pass judgment on their choices, values, and priorities.
In a recent speech given to corporate executives, I had the chance to talk about millennials in the workforce. I am uniquely positioned because I not only had the chance to read the research about millennials, I have the lived experience of parenting one and serving thousands throughout my career in higher education. For all of the lamenting by people of my generation about the habits of millennials and their "feelings of entitlement" or their "inability to commit" as they hop from job to job, we must also acknowledge that there are some great things about them, and this is especially true for the women. They may not be completely clear on everything that they want in life, but they ARE very clear on what they DON'T want. They don't want to be in toxic work environments. They don't want to work long hours because "that's just what people do at this firm." They don't want to stay at a place where their contributions aren't legitimately acknowledged or valued. Finally, they don't want to work for someone who tells them through innuendos or actions that they have to place their commitment to the institution over their commitment to their current or future family. I respect their self-confidence and their ability to advocate for their values and beliefs.
In my speech to the executives, I suggested that instead of assigning seasoned mentors to try to get millennials on board with the organizational culture, we should take a look at the culture and see how we can adapt to the needs of all generations today. There is an importance in living a full life, one that takes into consideration the human needs to connect, explore, engage, support, serve, and in general, just be well. I hope that these industry leaders heard me because I believe that millennials will change us before we will change them, and from where I sit, that is a very, very good thing.