April 1, 2019
Principled Leadership in the World of Votes of No Confidence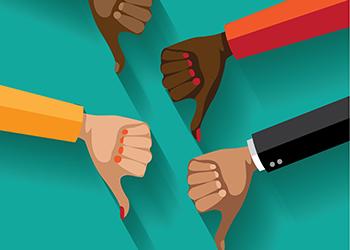 Michele Paccione/Shutterstock
In recent years, we regularly see votes of no confidence (VONCs) with higher education leaders and governing boards. Two decades ago, a VONC by the faculty on senior leaders was considered a departure for the leadership. However, the rise in the number of VONCs in recent years has also seen an increase in senior leadership and governing boards survive these actions. During these past seven years as a community college president, I and our board of trustees received two votes of no confidence from the faculty union in the middle of my current tenure (in 2015-16). Over the next few years thereafter, what transpired at our institution tells a story of how we moved beyond paralysis fed by polarizing discourse.

There is a story to be told here, but the story isn't one of how to survive a VONC. The story to be told is one of the lessons learned that contributed to an institutional turnaround and equally important how those lessons are situated in a few key elements of principled leadership: self-control, courtesy, indomitable spirit, integrity, and perseverance.

In full disclosure, following these tenets of principled leadership did not come easy at the beginning. I can vividly remember receiving the first VONC in October 2015. Our first instinct was to take a defensive posture. As usual in cases of VONCs, the board quickly threw their support behind me and we provided a counter-response to the claims made by the faculty union. Over the next few months, both sides positioned themselves further and paralysis took hold, resulting in a second VONC in early spring 2016. In retrospect, positioning on both sides had no one really talking to each other. The first lesson learned was we should have begun earnest conversations immediately when we received the first VONC.

Shared governance is often discussed in the context of open communication, transparent decision-making, and clear processes for executing governance. Following declining enrollment from 2012 to 2014, there was a desire to move new initiatives forward as quickly as possible. During this process, stakeholder groups were often weighing new structures and procedures to improve shared governance and putting them in place as we learned from our mistakes. There was a lot of hard work and pain along the way; some of it reflected in the frustration behind the VONCs in 2015-2016. The institution has come a long way since then and it is still a work in progress. But as of late, we have been told on more than one occasion by our peers at other institutions that we have more opportunities for engagement in institutional decision-making and communication that they have at their colleges. And in 2018, the College was commended by our regional accreditation body for the change and progress we have collectively made with shared governance.

Since fall 2015, the decline in enrollment flattened out a bit. Stabilizing enrollment has also grown our reserve funds, where the reserve fund is a healthy 36 percent of our annual operating budget today. A number of new academic programs have been launched. There is a lot of hard work that has occurred over the years, and much of this would not have been possible if a number of us hadn't been able to move beyond the paralysis of 2015-16. Our transformation occurred thanks to a number of leaders using a few tenets of principled leadership to guide us in how we could work together and move the institution forward.

Self-Control & Courtesy
A review of the publicity around the VONCs in 2015-16 certainly reflected an air of toxicity. In the discontent vocalized from various stakeholders, there were some individuals who could maintain a degree of self-control and thus were able to engage others differently. They were able to view the criticism objectively. Self-control can be discussed in a number of ways; in the context here, it required stakeholders to stop and think about how we receive criticism and how we choose to respond with our words and our actions. So, when we engaged those with toxic communication, many of us chose not to retaliate with toxicity of our own and instead responded with decency and decorum. The resultant calm created in the storm provided an opening for a new environment of engagement to form.

Change was still required on many fronts; however, it could not occur unless we could transition away from this paralysis and toward a kinder discourse. As we did so, there were still naysayers who felt it was just an act. However, in time, that perception changed as more individuals from ALL stakeholder groups began to comment on their belief that the change in the climate was real.

Integrity & Perseverance
We also understood that choosing not to retaliate to toxic communications would not be enough. Phone calls and emails came in from colleagues who advocated we produce a counter offensive to the VONCs and hire PR firms to push back against suspect claims made. We recognized that we could have won the battle of words and public opinion with that strategy, but we would only hurt the institution in the long run if we did so. The right thing to do was not to go on the offensive. If we were to move forward, we had to make choices that were based upon healing. As the discourse changed, give and take occurred more frequently. These conversations also had a direct effect on the redistribution of power where we looked to create clearer decision-making and communication in the shared governance processes. This process was slow but forward moving. I cannot emphasize enough the importance of compromise. We could no longer rest on our old position and our histories of hurt if we were going to build a more productive environment across stakeholder groups. By maintaining our sustained practice of self-control, courtesy, and integrity, a foundation of compromise, rebuild and repair was built; all a lesson in group perseverance.

Perseverance required a number of leaders to bear the brunt of toxic communications for the long haul. We had to persevere with conduct of decency if we wanted to foster a better environment for others to join in. Did we know if our principled approach to leading would work? No, we did not, but it felt right and in the end, it was the correct course of action for all of us.

Indomitable Spirit
Adversity comes in many forms and we know it can be a valuable asset in helping an organization critically evaluate itself. Where adversity delivered repeatedly in a toxic manner breeds an environment that can paralyze individuals, a consistent display of indomitable spirit became important. Indomitable spirit wasn't simply a positive attitude in the face of toxic adversity; it required us to bring an attitude to the table where we believe in the full potential of what yet this college had to achieve. That attitude fed our demeanor in how we approach compromise, courtesy, and self-control.

An indomitable spirit also prepared many of us to better receive the pain others projected through their discontent and made it consistently easier to listen carefully to their grievances. It became so important that we were mindful of how we "showed up" to engage others. It certainly became a lot easier when we maintained a promising perspective on the future when we began to work through difficult conversations.

Years after the VONCs, we are thankful that we turned the corner. For all of the ideas and initiatives we explored, the way we choose to engage adversity was far more important to our recovery as an institution than what new program we offered or what employment decisions we made. The way was shaped by these principles and values of self-control, courtesy, integrity, perseverance, and indomitable spirit. We are proud of how shared governance has evolved with all stakeholder groups over the last three to five years. We believe a fairer distribution of power has also facilitated that growth in shared governance.

There are many lessons learned in our story that were outcomes situated around principles of leadership. They include:
at the onset, engage the adversity early instead of going on the offensive or engaging in defensive posturing;
irrespective of the past history that led to the adversity (in this case VONCs), the future isn't about the organizational leaders' egos or face-saving actions; it's about how to move away from adversity and toward an environment where more compromise is possible;
carefully evaluate the distribution of power between shared governance stakeholders and if it is a fair distribution; and
compromise is easier to achieve if we can "show up" in these difficult conversations with grace.
In the face of adversity and toxic behavior, I, members of the board of trustees, union leaders, and Senate leaders chose to respond with grace. When we did, it was out of respect for what we believed was the potential for the institution and what we believed was possible for those who struggled with toxic communication behaviors. It can be debated the power VONCs have today, as more leaders seem to survive them than decades ago. But VONCs can be symptomatic of deeper issues related to institutional culture and the pressures of external constraints. Colleges must continue to look at how they can preserve shared governance structures and become far more agile in responding to these external pressures that may ultimately determine their survival.