December 12, 2018
Interviewing Basics: Preparation is Key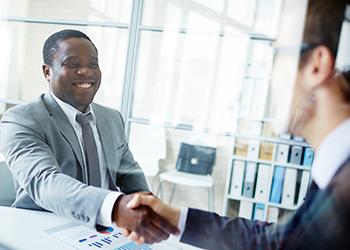 Pressmaster/Shutterstock
The key to stress-free interviewing is to prepare, but not too much. You want to do just enough research so that you know what to expect and can speak intelligently on the points related to your job function. It helps to jot down a few "wow 'em" facts about the university that you would never know unless you did your homework. However, don't spend so much time on the university's website that you end up sounding like Wikipedia in the interview.

It's in your best interest to find out as much as you can about the person or people interviewing you so that you know who you're dealing with. A Google or LinkedIn search will prove helpful in this regard. Reviewing the interviewer's CV or current research can also provide valuable insight. Determine in advance what type of interview you'll be having so that you aren't caught off guard. Will the meeting be one-on-one, or will you be sitting in front of a panel? Will you be asked to consider a real-life problem? Will a teaching demonstration be required while you're there?

I also recommend putting together an interview portfolio. A portfolio is an online and/or physical display of your achievements that shows your level of commitment to previous positions. For example, as a marketing communications executive, my portfolio included press releases and business plans I'd written, magazine articles I'd contributed to, and print advertising campaigns I helped develop. A neat and professional portfolio can be an excellent tool to refer to during an interview. Most people outside of creative fields don't bother to create anything like this, but it really does speak volumes about your ability to package yourself.

Although it's a good idea to be conversational during an interview, be careful how much personal information you divulge. There is never a good reason to bad-mouth your previous employer, even if everything you say is justified. While listening to your sob story, your prospective employer is thinking about how in a year you will be sitting in front of another interviewer complaining about him. Don't be fooled by a department chair who seems compassionate. Remember, the two of you are not friends and the interviewer's first loyalty is to the department he's hiring for. If you are asked why you left a job, answer with a neutral statement, such as "The commute didn't allow me to spend enough time with my family," or, "I wanted to gain experience working in a different industry."

Here are some other things to keep in mind as you undergo the interview process:

Pre-Interview
Familiarize yourself with basic interview questions, such as, "Tell me about yourself?" Don't forget difficult or unique interview questions, such as, "What is your worst quality?"
Assess your own skills and career path in the context of the position.
Brainstorm three to five of your most important accomplishments and practice succinctly communicating the challenges and results of each one.
Think of some appropriate questions of your own to ask the interviewer.
Be careful not to memorize your comments, or they will end up sounding scripted.
Day of the Interview
Dress in neat, formal business attire: Men should wear a dark suit, solid or pinstripe, with socks that match the pants and a belt that matches the shoes. Women should pair a dark suit with tasteful accessories and non-scuffed heels of a reasonable height.
Don't arrive too early or too late.
Carry a nice briefcase that looks worn, but not too worn.
Begin with a strong handshake.
Speak confidently, even if you feel like hurling from nervousness.
Avoid talking nonstop without taking time to listen sincerely.
Refrain from saying anything negative.
Pay attention to nonverbal cues -- yours and the interviewer's.
Take a moment to think, if you don't know an answer immediately.
Be prepared for standard interview add-ons, such as personality and skills assessment tests and background checks.
Let the interviewer bring up the topic of money first.
After the Interview
Write thank-you notes (at least emailed ones) to everyone you spoke to.
Follow up with the interviewer for a status on your offer.