August 21, 2018
How Professors Really Spend Their "Summer Vacations"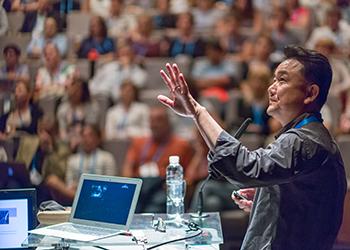 Matej Kastelic/Shutterstock
The academic year ended for most college/university faculty in mid-May or early June after the expected crush of final examinations, adjudication and submission of final grades, compilation of final reports, and review of semester student evaluations. These seemingly unending tasks did, in fact, culminate into an exit for faculty from the day-to-day work of the academic year.

College and university faculty, more and more, are expected to maintain a regular and robust research agenda which is tied closely to annual evaluations leading to tenure and promotion. While more traditional views of faculty -- most nine or ten-month employees -- paint portraits of leisurely months away from campus, many faculty are working throughout the summer months. Indeed, the myriad portraits of faculty as 'enjoying' a life of a few hours in class each week, attendance at committee meetings, and trips to conferences in major cities and countries to present papers on esoteric topics are far from the reality of the continuous work of faculty once they leave campus for the summer. In recent conversations with faculty, some shared an anti-climactic feeling, not one of performance closure but one of [necessary] performance continuity during the summer months to ensure a successful start to the forthcoming academic year. Put another way, faculty, primarily tenure-track, expressed concerns with continuing their research and writing during the summer months outside of the academic setting.

What are some of those primary concerns? The most often articulated are:
How will travel and related research and writing costs be covered?
How will evidence be provided of work accomplished during the summer months?
Who should be communicated with [about the work] prior to summer, during summer, and upon the start of the academic year?
Most faculty do not receive any additional pay during the summer months, yet they spend a respectable amount of their summer in revising current courses, preparing for new courses, reading latest innovations and developments in their disciplines, and attending discipline-based organizational meetings and conferences. While these activities are both time intensive and expensive, there are ways to address some of the concerns of faculty who seek support for their summer work during what is often not the three-month vacation that non-academics mythically believe that college and university faculty enjoy.
Support for travel and related research and writing costs: During the academic year, discuss the work that it is planned with your department chair and/or dean. If your work has a direct impact on your teaching, there is often faculty research support that can extend your work through mini-grants or even larger faculty research stipends. Additionally, throughout the academic year become familiar with the grants coordinator and other personnel in the Office of Sponsored Research. Not only will they assist in identifying funding for research, they will often provide pre-award and post-award administrative support for funded projects.
Evidence of work accomplished during the summer months: If your work is supported by grant funds maintain copies of all award letters and related correspondence. Document carefully the work that is done during the summer months by keeping an electronic log of time spent and work accomplished during the period. In the case of providing evidence for tenure and promotion, this kind of focused and methodical data collection will enable you to carefully recollect your progress to specific goals. If you receive any accolades, letters/notification of pending support, and new collaborative research partners, document and provide this information to the department chair and dean. This information also is important in increasing the department and college/universities' footprint as a research-centered institution.
Communication about your work prior to summer, during summer, and start of the academic year: Do not lose the opportunities to present your work on campus and at related venues in the community throughout the academic year. The more visible your research is from the beginning to the end of the academic year, the more likely you are to make a strong case for funding support. Think creatively about the kind(s) of support that can be instrumental in the achievement of your research goals. It is not always money but also the in-kind use of campus and community facilities, as well as access to expensive software and databases. Update your faculty profile page to reflect your current research and create a scholarly blog about your work-in-progress.
Time 'off' during the academic summer is often time 'on' for some college and university faculty. This period offers a flexibility that contributes to the attractiveness of faculty positions for individuals with terminal degrees. While this flexibility is to be embraced, there is still research work that must be done to ensure that the forthcoming academic year is a successful one.