Featured Article
May 27, 2020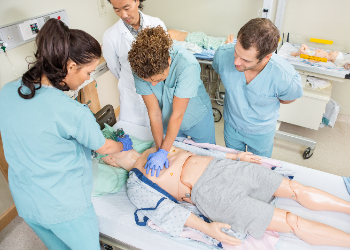 Tyler Olson/Shutterstock
The College and University Professional Association for Human Resources (CUPA-HR) has released a new report: "Faculty in the Health Professions: Growth, Compensation, and Salaries." The report examines the steady growth in the discipline and reveals health professions faculty have a higher median salary compared to other disciplines. Find out what other trends were revealed.
Recent Articles
May 22, 2020
Colleges and universities everywhere are finding that, among the many challenges posed by the rapid move to online learning caused by the COVID-19 pandemic, some parts of the curricula are affected more profoundly than others. For instance, programs that feature co-ops and internships, lab and studio courses, and practicums face unique challenges during this time. Fortunately, students, faculty, corporations, and other educational partners are stepping up to meet the challenge with creativity and resilience.
May 21, 2020
For graduating college athletes, spring is typically a special time when sports seasons end and their athletic efforts throughout college come to a ceremonious close. However, this year is different as the coronavirus outbreak continues to ravage communities and economies across the world. Student-athletes are, instead, left with an unsatisfying end to their athletic careers in one way or another and are attempting to find a resolution from the NCAA and their respective higher education institutions.
May 19, 2020
College students often gain as much between their classes as they do within them. That's not to say the classes aren't excellent, but simply that much of our learning occurs in ways we don't expect, such as through sidebar conversations, internships, and leadership roles in student organizations. Such experiences teach students soft skills, but what happens when higher education for millions of students is suddenly reduced to a virtual Zoom or Blackboard connection? How do students continue developing their interpersonal skills and building their social capital?