Featured Article
November 18, 2019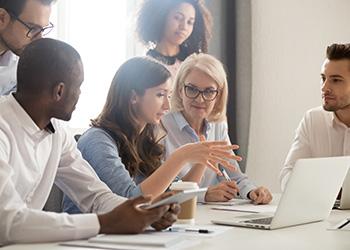 fizkes/Shutterstock
Middleton says that, ironically, the skills you develop in your successful career, especially early on when you are just getting started, actually turn out to be irrelevant or even dysfunctional as you move up in the hierarchy. As you advance in your higher ed career, you focus more on leading and less on "doing." When applying for that first, entry-level leadership position, remember that there will be many skills for you to learn -- including ones that you didn't know would be part of your position.
Recent Articles
November 4, 2019
Unexpectedly losing your job is both a shock and a loss. Where do you start picking up the pieces? How do you muster up the confidence it takes to get yourself together and start a job search? Experts recommend taking the news in stages. Give yourself time to mourn the loss of your job and reflect on its meaning before tackling the search for a new one. Once you do that, you can start to reclaim your confidence, reach out to your network, rebuild, and launch a job search.
October 11, 2019
The urgency of the global climate has become front and center in recent news. After the recent UN Climate Summit, politicians are assessing how they will circumvent the worsening conditions, and the higher education industry is not exempt from these conversations. In fact, the industry has been a leader in U.S. environmental efforts and, according to experts, colleges and universities have created some of the most ambitious climate action plans in the country.
October 9, 2019
Today, the nation's most selective colleges admit less than 10 percent of applicants, news stories make it seem like the odds are stacked against applicants, and it is increasingly difficult to distinguish them from one another. It is no wonder students and their families are disillusioned and bewildered. An admissions professional says while many of these statistics and stories seem mind-boggling, they don't paint an accurate picture of the admission landscape in its entirety.